Crystal Tompkins
UX Designer | Product Designer | Illustrator | Educator
Plant Native
A mobile solution for identifying and incorporating native plants.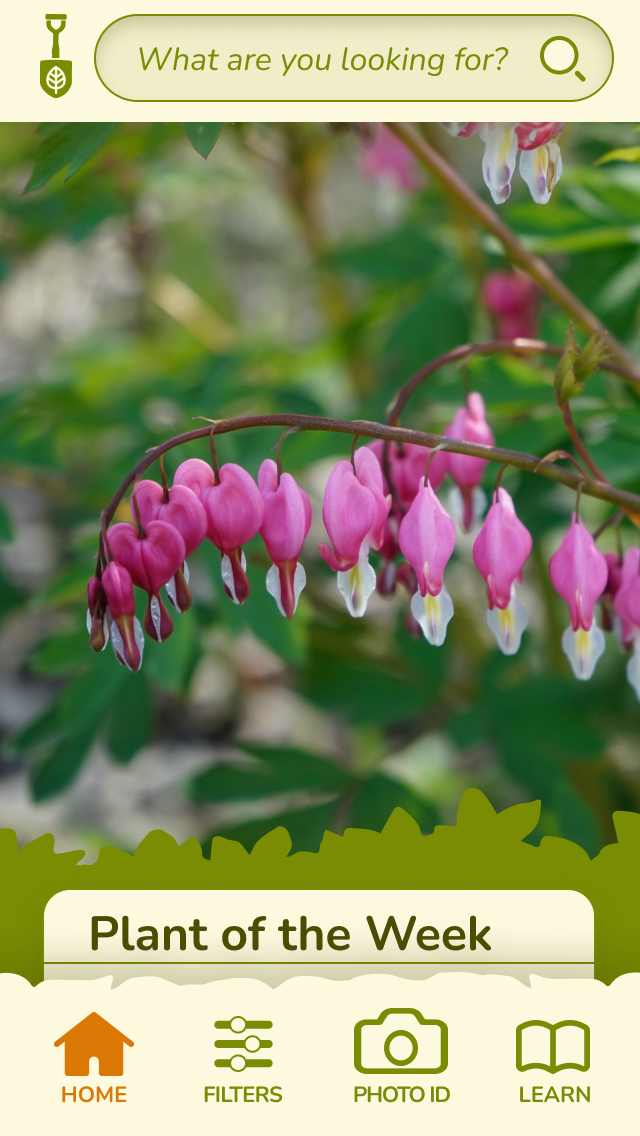 How might we make identifying native plants easier for all gardeners?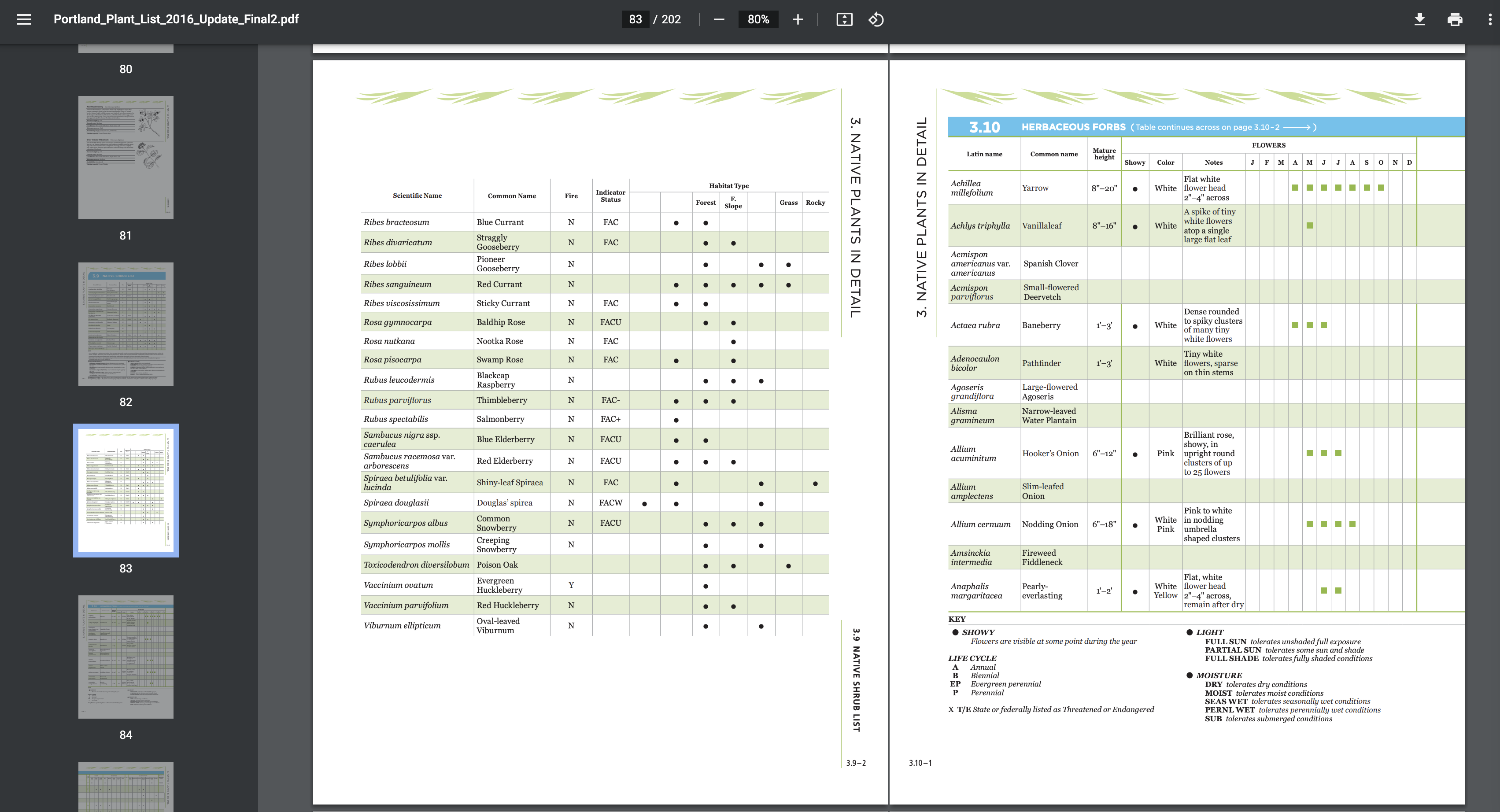 Why are we doing this?
OVERVIEW: Experts agree that habitat loss and invasive plants are the leading cause of native biodiversity loss.
I moved into my new home in 2018. We wanted to increase biodiversity and that included adding more native plants. I was directed to the Portland Plant List, an expansive data set of native plants. I found that the list is available in only printed pamphlets or in an incredibly difficult-to-use pdf of 200+ pages.
OBJECTIVE: To create an educational mobile app, helping users to understand the benefits of incorporating native plants while using the data from the Portland Plant List, and simplifying the UX to find native plants for their specific needs with simple, accurate, and easy to navigate methods.
MY ROLE: This was my capstone project for the Springboard UX Design Certification. My role was to take the project end-to-end, from discovery to strategic information architecture to high-fidelity designs and prototypes.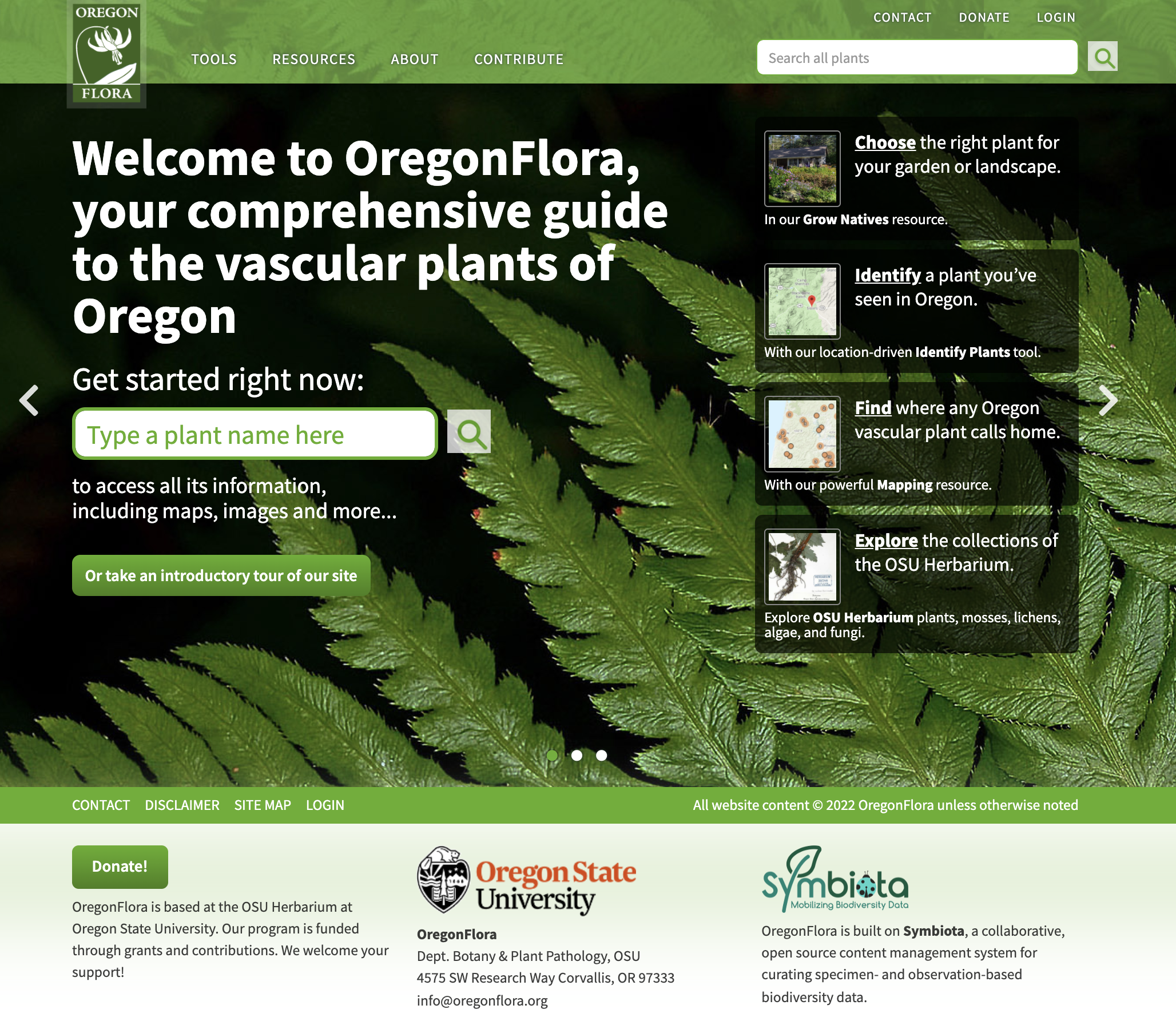 What's out there?
SECONDARY RESEARCH
Competitive Analysis: I wanted to know what was out in the world that had a similar feel or flavor. Was there anyone that offered similar services yet? Oregon Flora came closest, but was definitely intended to be a desktop application.
Heuristic Analysis: I wanted to see how Oregon Flora and a few national competitors held up when used on a mobile device, and they all fared poorly. Information was difficult to find, and navigation was problematic.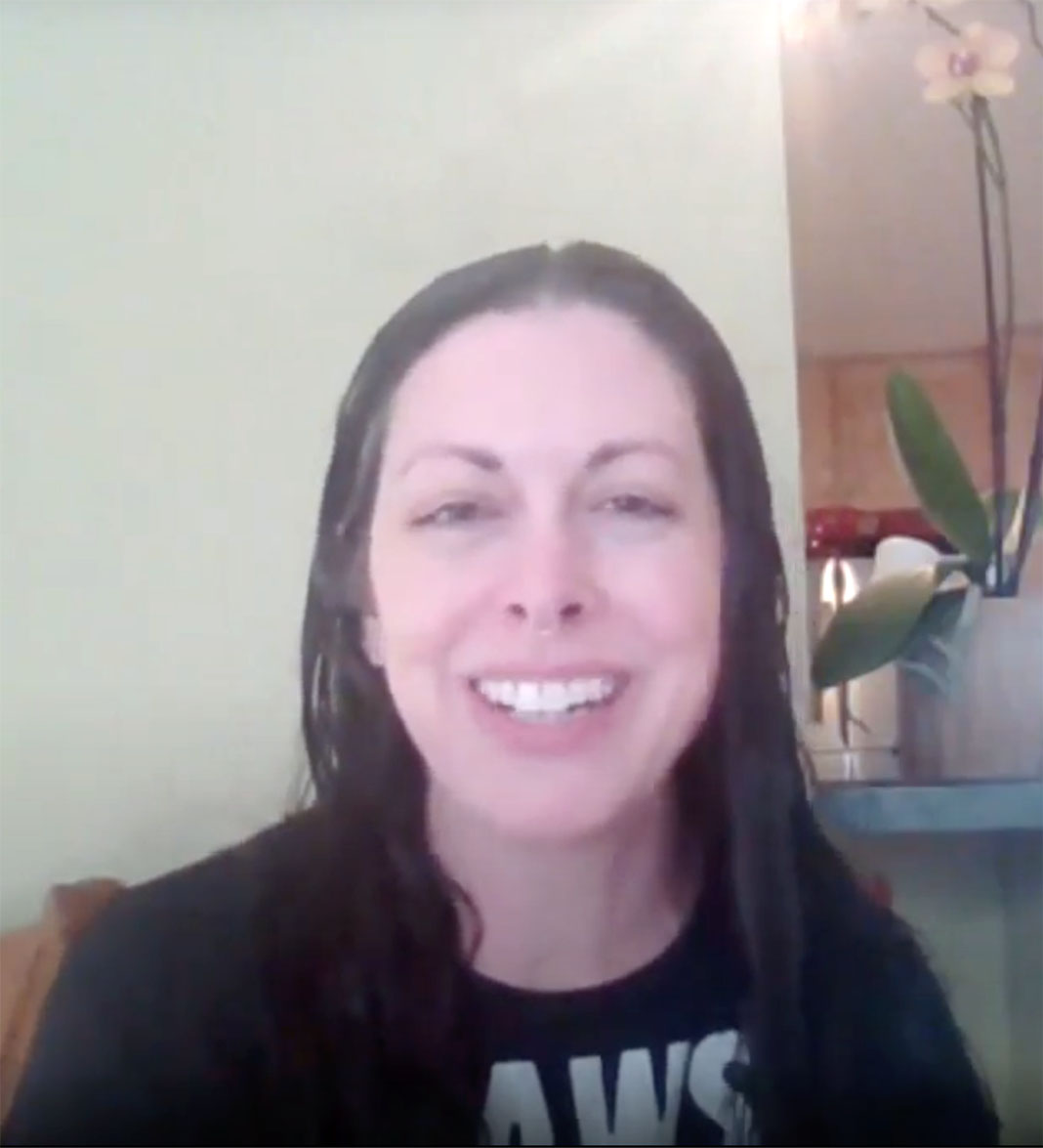 How do gardeners feel?
PRIMARY RESEARCH INTERVIEWS
I wanted to know what gardeners would be searching for, and how they would actually use this kind of service, I scheduled 7 participants for interviews after posting a screener on several PNW gardening Facebook groups. The screener was available for less than 24 hours, and had over 80 respondents at the time of closing.
Guiding Questions:
Do gardeners understand the benefits of native plants?

How are gardeners informed about which plants are native?

How do gardeners find native plants appropriate for their needs?

What would be most helpful for people trying to use the Portland Plant List?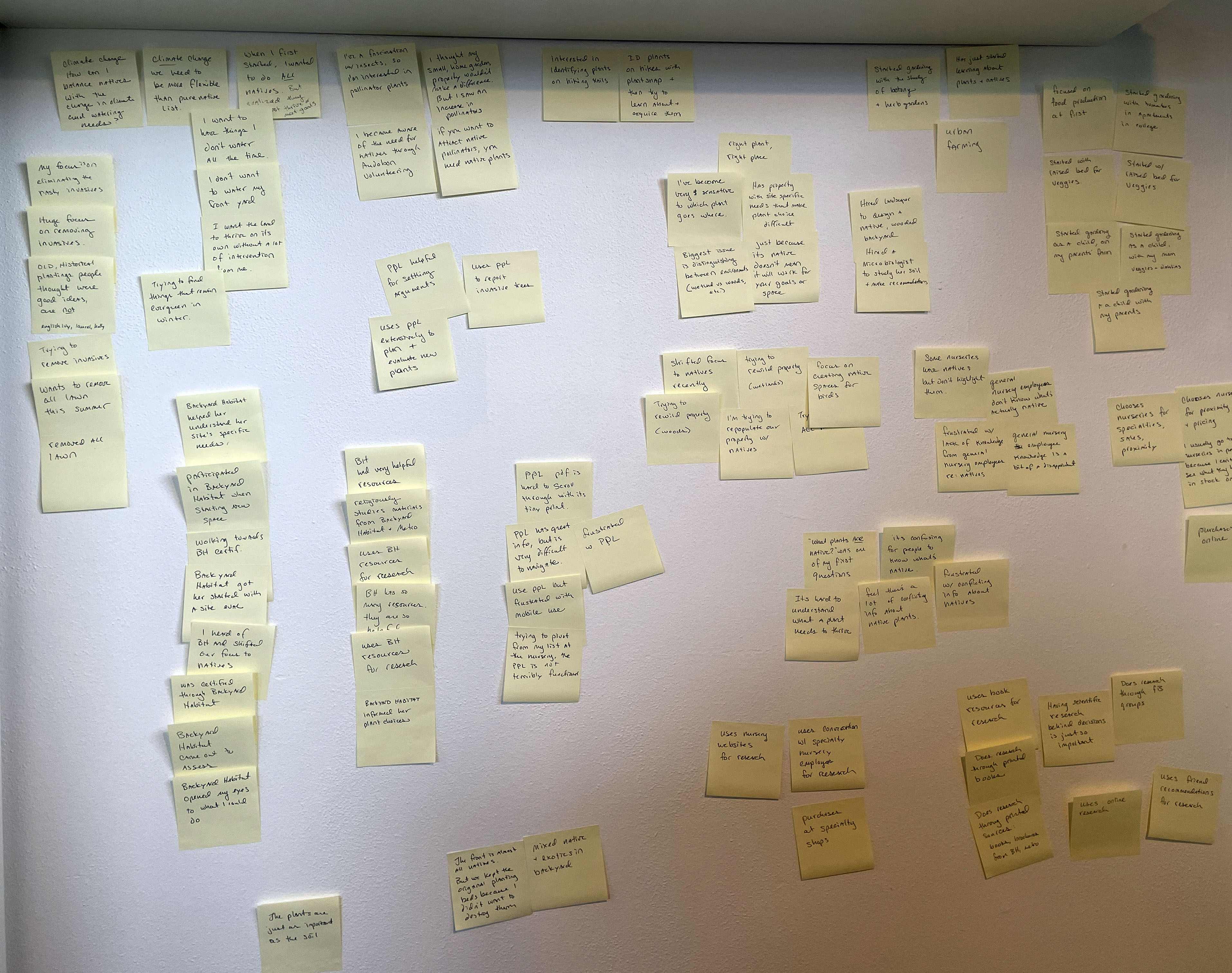 What did we learn?
REDEFINING THE PROBLEM
Our interviewees reported interest in 3 main areas:
Specificity in Care and Choice:

Accurate Identification

Less Frequent Watering
Some user statements that I heard repeatedly during interviews from the majority of my participants:
"I'm currently working on improving the biodiversity on my property."

"I am frustrated with Portland Plant List's digital functionality."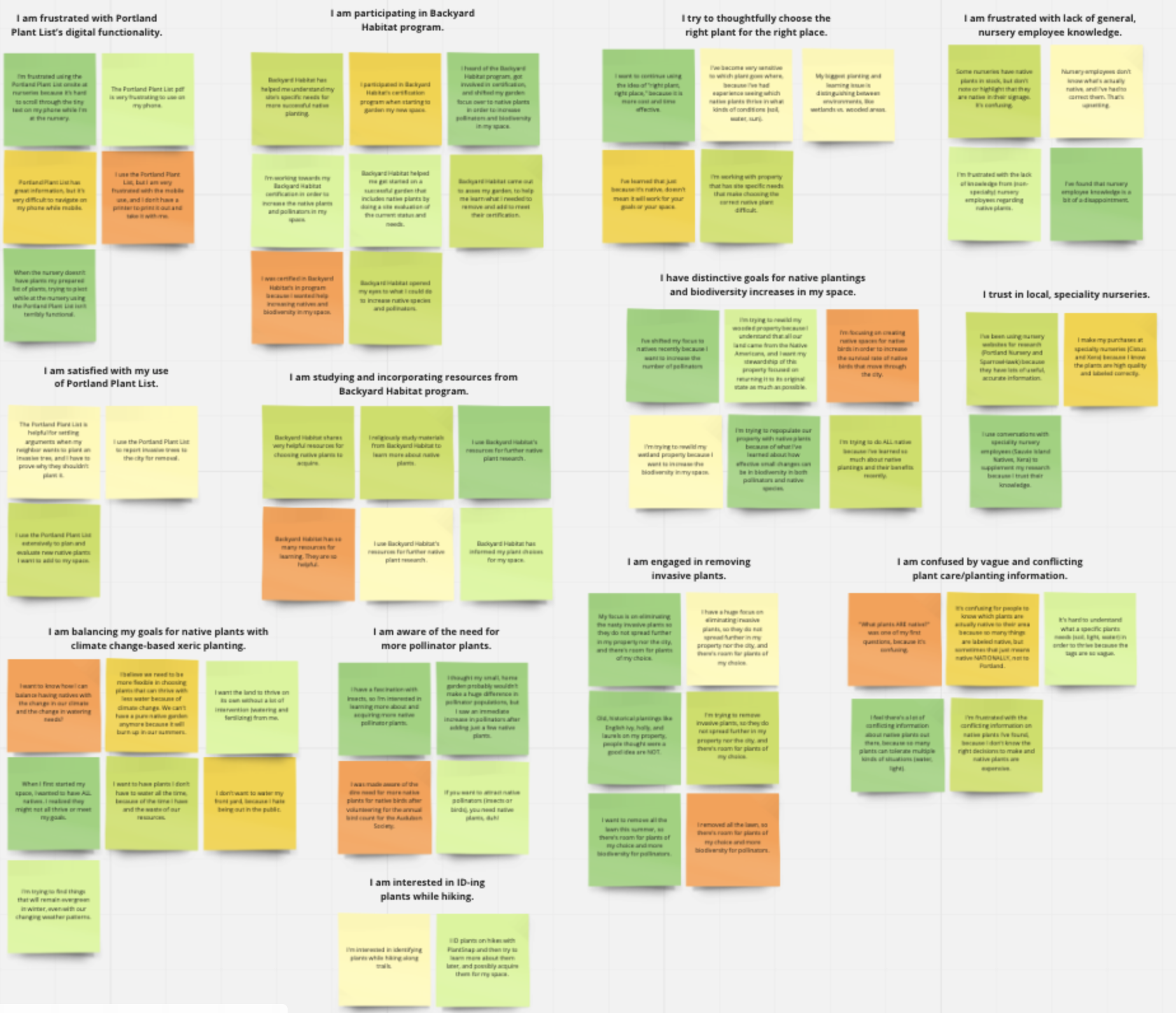 What did users say?
DEVELOPING PERSONAS
After my initial post-it sort, I used Miro to organize and file my findings from the interviews. I found I had two categories of gardeners who were working on increasing their biodiversity: novice and experienced. They had distinct frustrations:
Experienced: "I am frustrated with lack of general, nursery employee knowledge."

Novice: "I am confused by vague and conflicting plant care and planting information."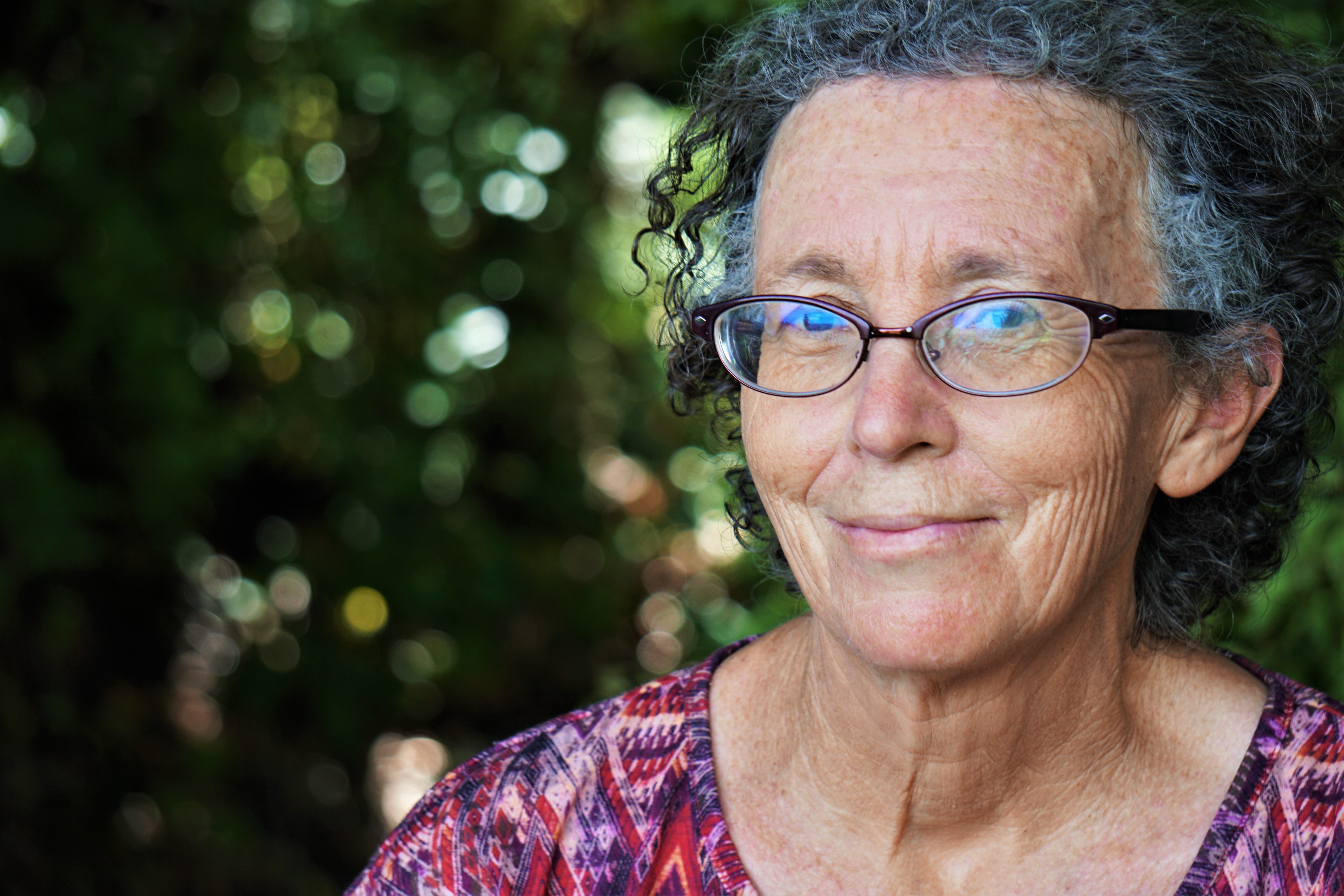 Meet Judy Irving
PERSONA 1: EXPERIENCED GARDENER
Judy is a very experienced gardener, who has been working on her property for decades. She studies materials carefully at home before making purchases.
Needs: Judy needs to be able to easily look up any information about plants while she's on the move, either shopping or hiking.
Paint Points: Judy is frustrated by the lack of, or mislabeling, of plant stock at nurseries.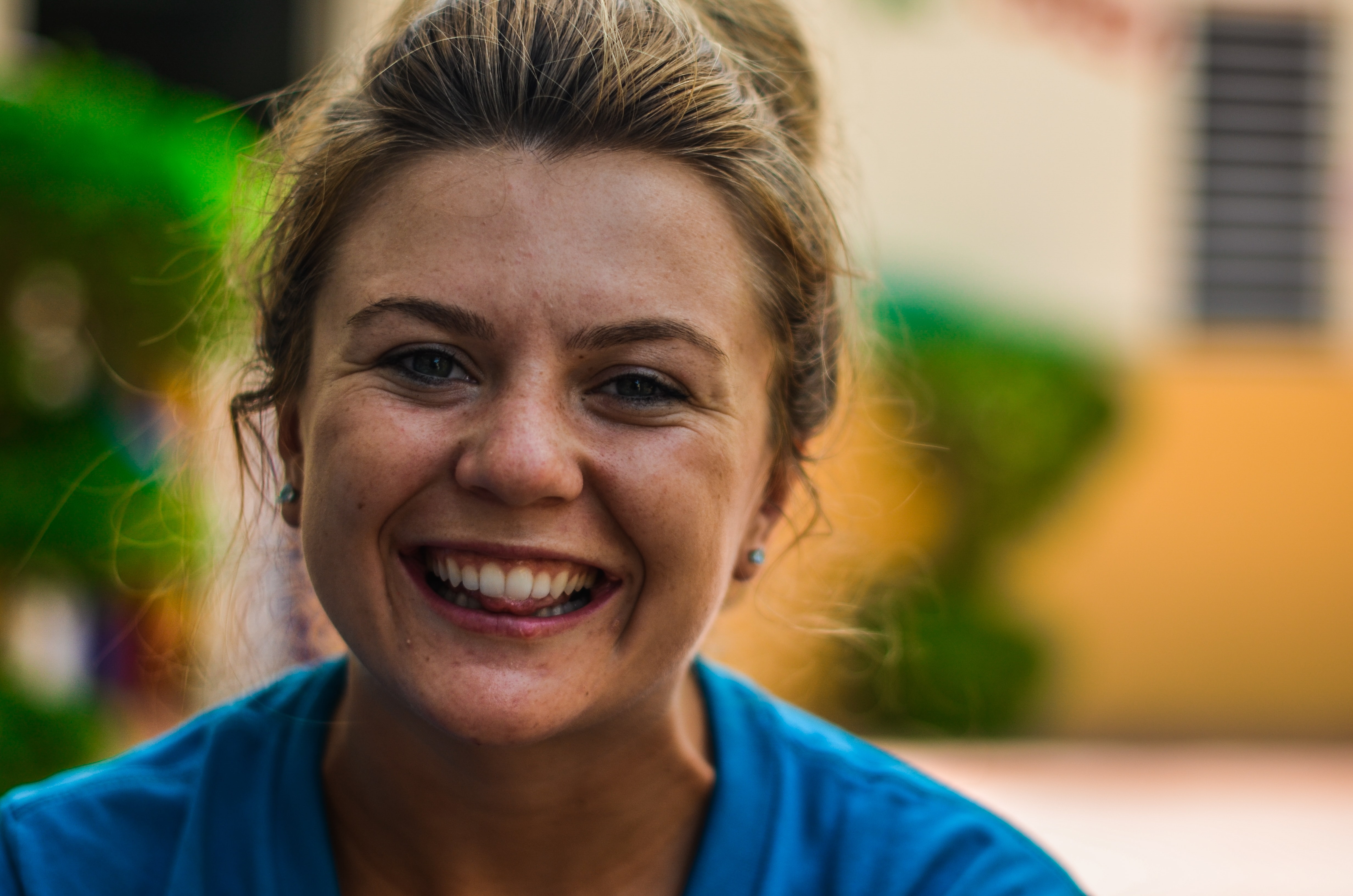 Meet Madison Browne
PERSONA 2: NOVICE GARDENER
Madison is a fairly new gardener, who just bought her property a year or two ago. She's been taking classes on gardening and is very keen to add more native plants.
Needs: Madison needs to understand plant care better (soil, sun, and water needs, etc.) while shopping. She also needs to be able to identify native plants while out and about.
Paint Points: Madison is confused by the conflicting information about categories and plant care.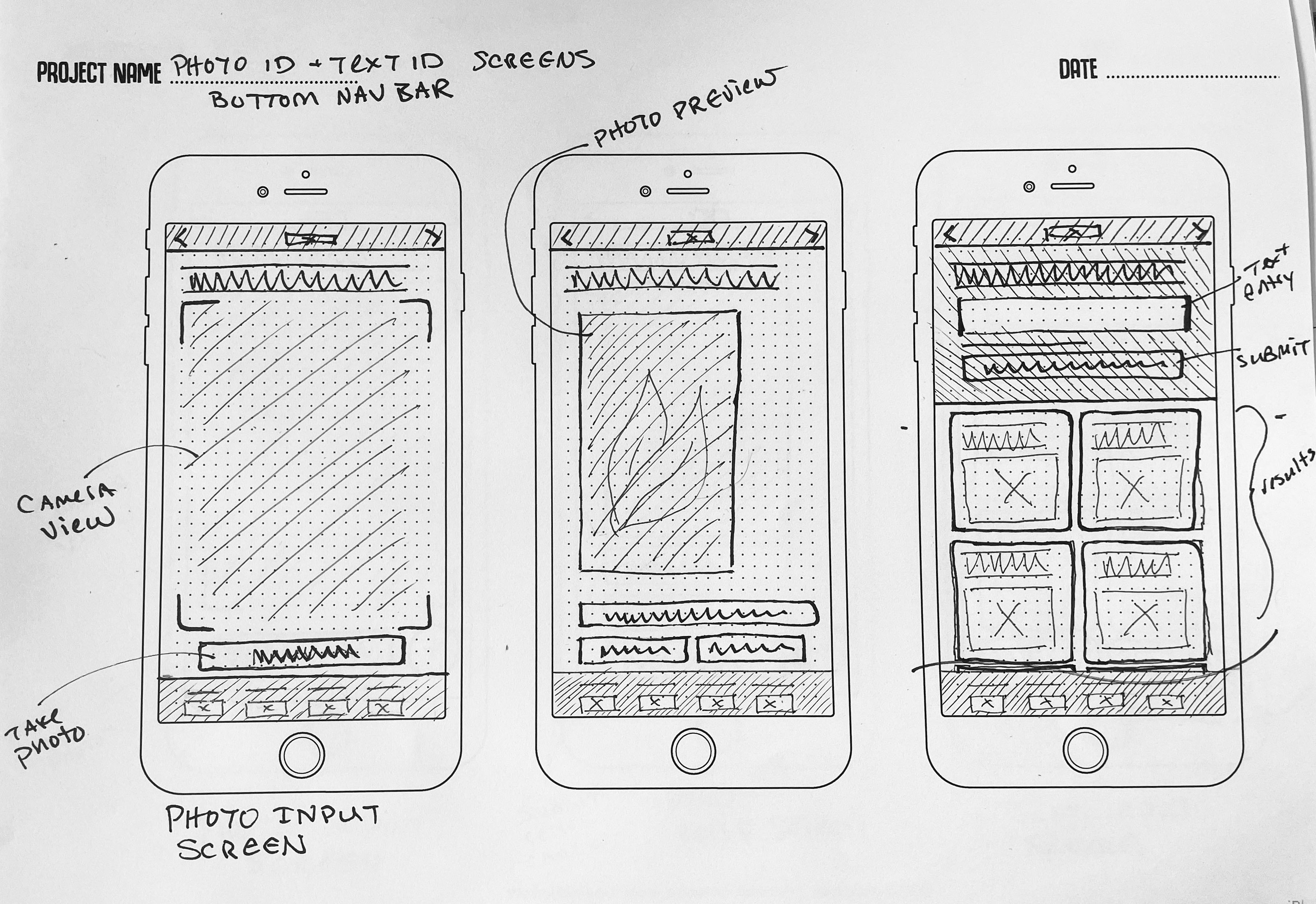 LET'S GET SKETCHING!
IDEATION
After using multiple, written ideation methods, I produced two solutions for basic navigation in my sketches: a bottom navigation bar and a floating navigation button. I decided to move forward into low-fidelity to test each.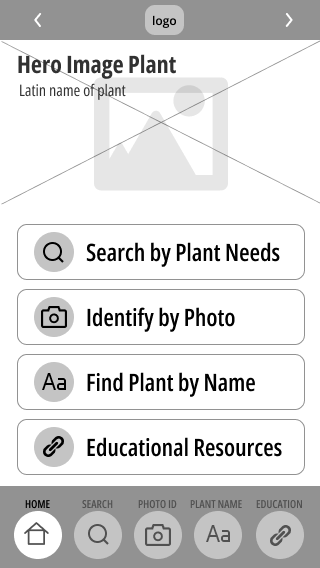 How do people behave?
WIREFRAME GUERILLA TESTING
I created two different versions of navigation in wireframes for testing purposes. I used Figma's mirroring app on an iPhone 12 mini for all wireframe testing. I conducted guerrilla usability tests with 7 gardeners with a range of experiences.
Outcomes
7/7 testers completed all tasks.

All males struggled with button sizes.

3 phrases were not understood.

2/7 testers found floating navigation.
Analysis & Recommendations
Resize buttons to fit larger hands.

Bottom navigation was much more successful than the floating button navigation option.

Ambiguous phrases were rewritten, incorporating suggestions with research.

Logo at the top should also be a home button or be removed.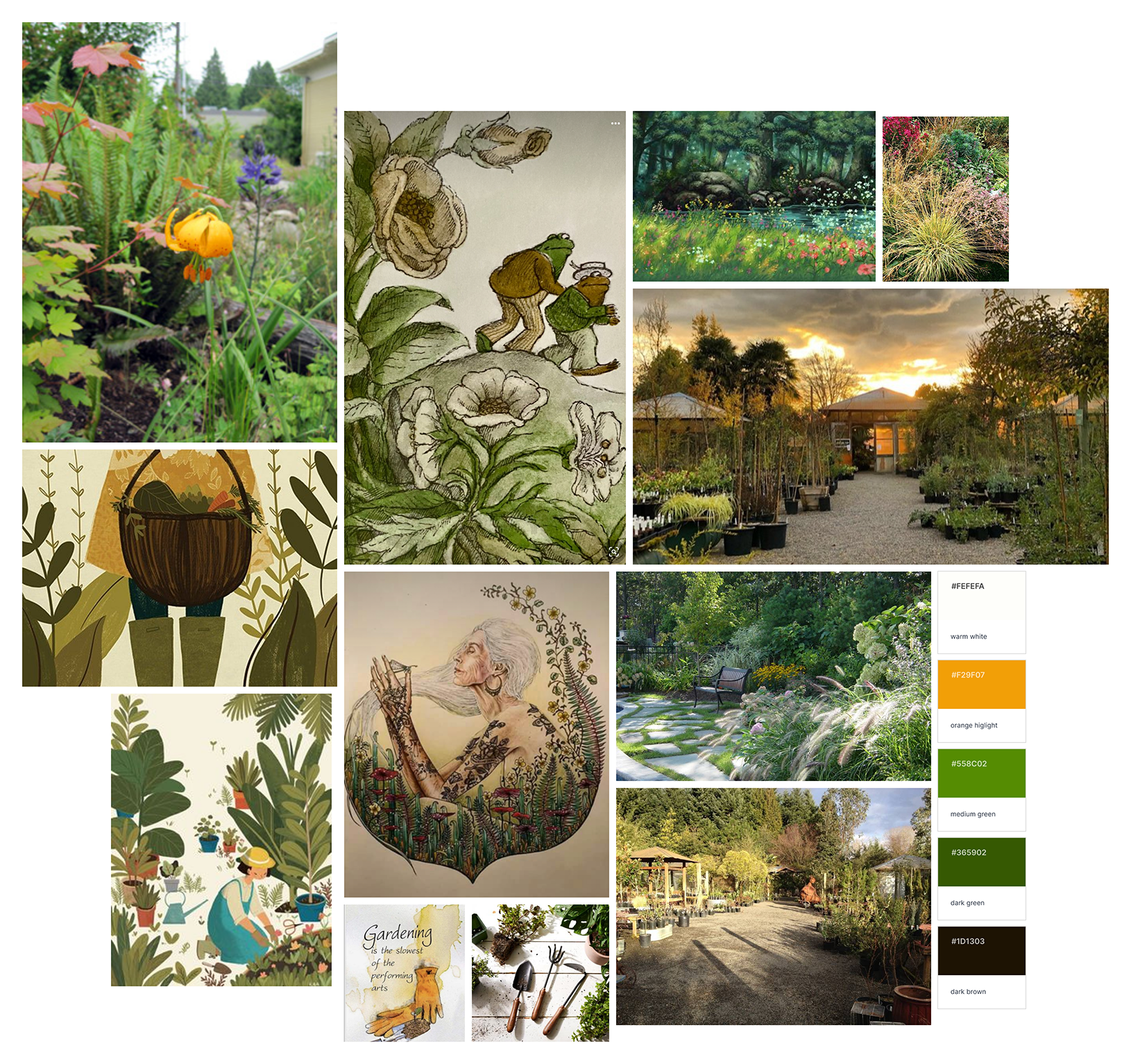 How should the product feel?
MOODBOARD
The content being based on both gardening and native plants really called for natural, healthy greens; warm, background colors; and rounded, welcoming shapes.
Orange highlights were used for all CTA buttons and text.

Warm, dark greens were used instead of black.

I wanted to add texture where possible, but keep the design uncluttered, so I used my skills in vector illustration to create leaf edges on the bottom navigation bar, and at one edge of a background shape.

I didn't want the style to feel too clean, slick, or technical.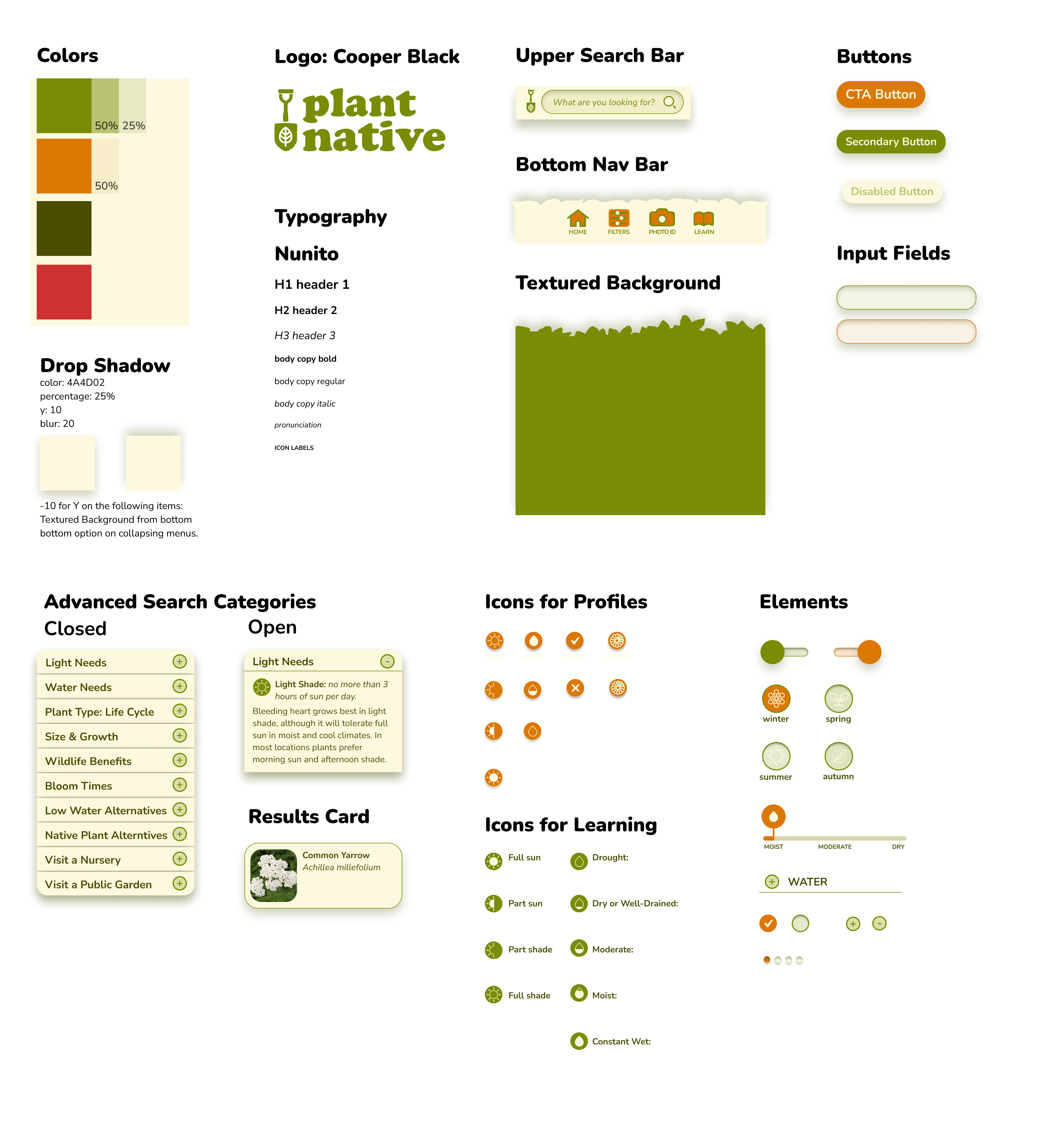 What are the design specifics?
STYLE GUIDE
I had multiple iterations of the "friendly, textural" style before landing on this style. My research showed homeowners (people with the space to build gardens) in this part of the country are older. I also knew that my users would be activating this app out in the field or in a nursery setting, where bright sunlight might make visibility an issue.
My style guide maintained high contrast and larger icons and text to help older eyes and combat sunlight contrast problems.

I also incorporated a few elements where the design taught the user how to use touch actions that are less common for an older demographic.

I used Nunito as my font, because it was rounded and friendly, but also had a high readability in all sizes. Nunito also complemented Cooper Black, which was used in the logo.
Check it out!
CLICKABLE PROTOTYPE
Do you want to know more? Check out the prototype built in Figma. Learn about Western Bleeding Heart and Common Yarrow!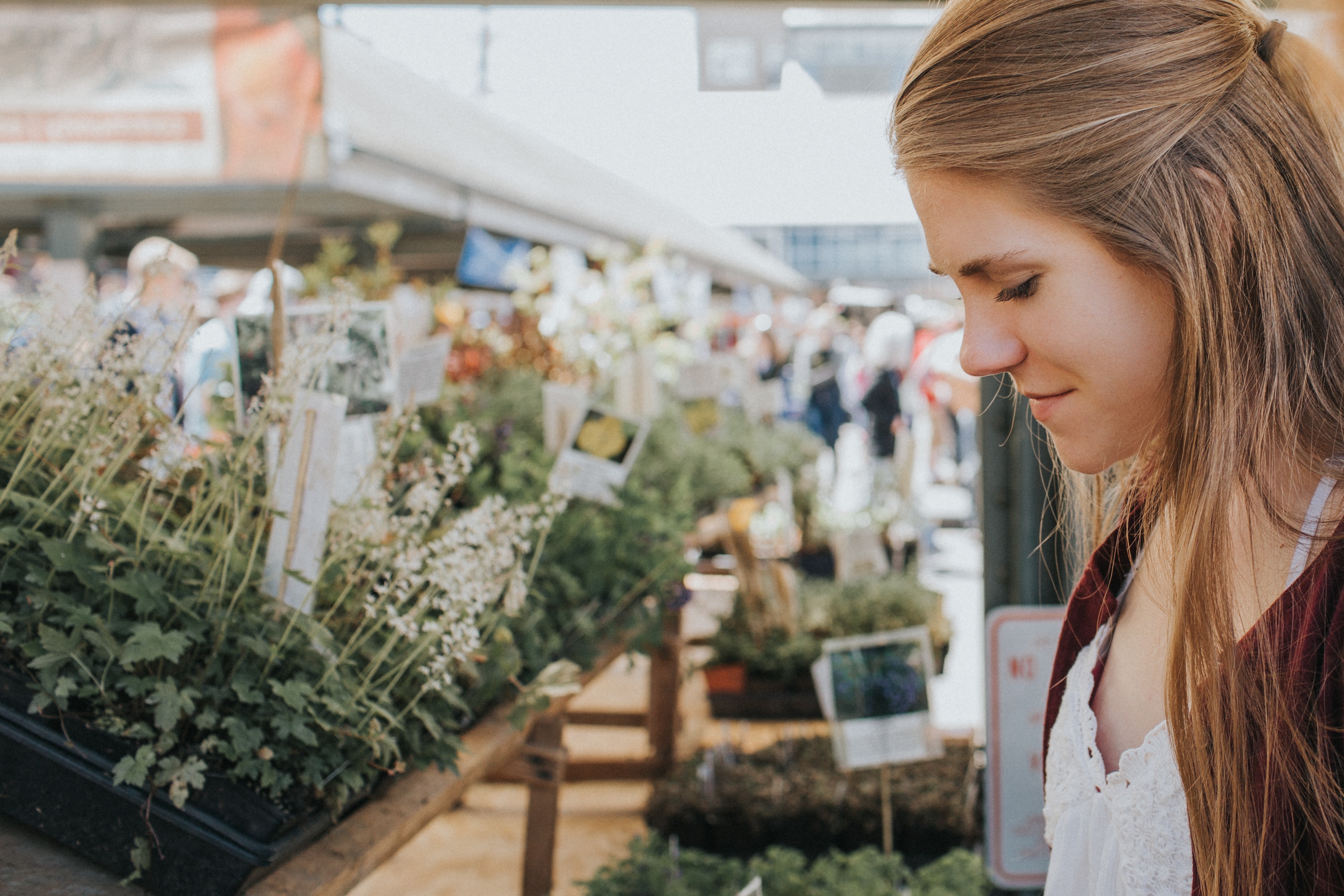 How did I do?
HIGH FIDELITY USER TESTING
I conducted 3 testing rounds in order to reveal usability problems. Participants had a wide range of technical experience, from tech industry specialists to gardeners who use their mobile phone for calling less than twice a week.
Testing Objectives
Initial impressions of specific screens:
Home screen - identify comfort level with navigation, gain understanding of users' initial use of the product.

Advanced search screens - identify ease of use, user understandability, flexibility of use for specific needs.

Plant profile screen - iconography understandability, ease of use, readability for small details and especially smaller screens.

Uncover usability problems in red routes.

Identify confusing language, labels, or icons.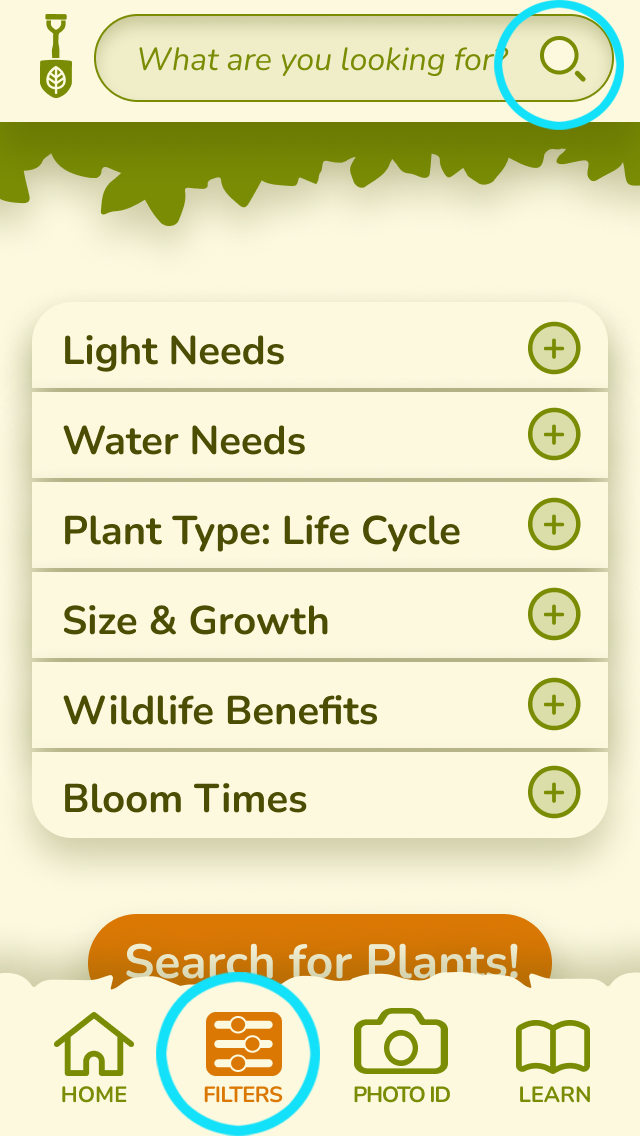 Search Icons
KEY FINDING #1:
There was confusion between text search and advanced search.

Recommendations: I changed the name of the advanced search button to "filters" to help differentiate.
Testing Results: In round two of testing, this issue was reduced to 17% of testers hesitating. Further testing showed that 100% of testers were ultimately able to move forward in testing.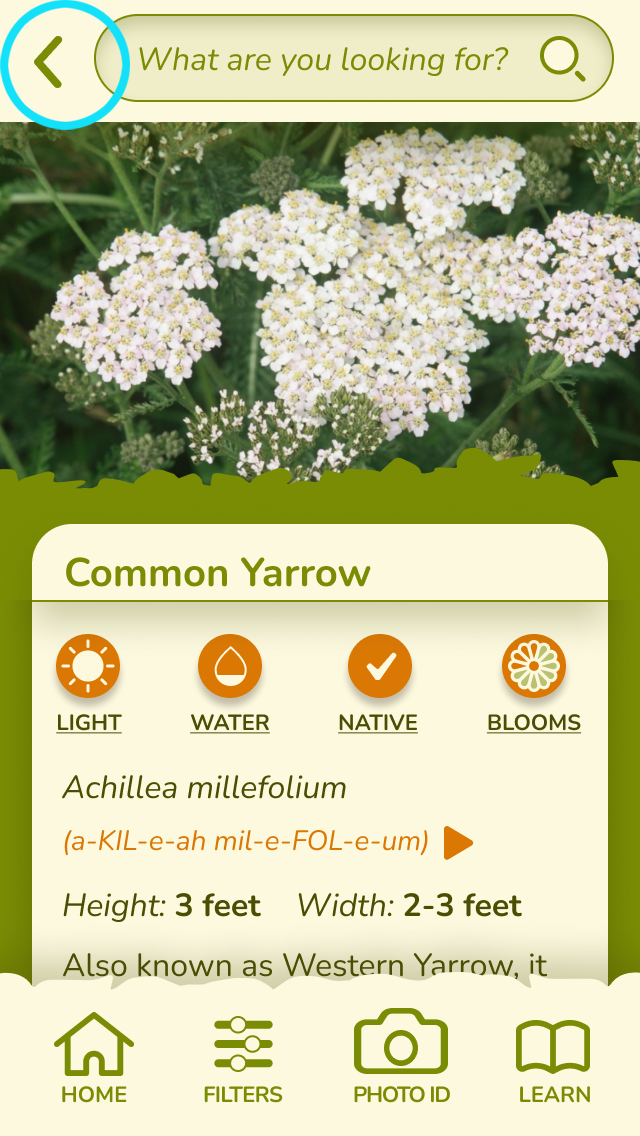 Back to Results
KEY FINDING #2:
The ability to go back to the results list was missing.
Recommendations: This seems like an obvious option that I forgot to add. I substituted a back button where the shovel logo is located on the plant profile screen quickly.
Testing Results: In all subsequent testing rounds, this simple fix resulted in no issues for100% of the testers with going back to their list of search results.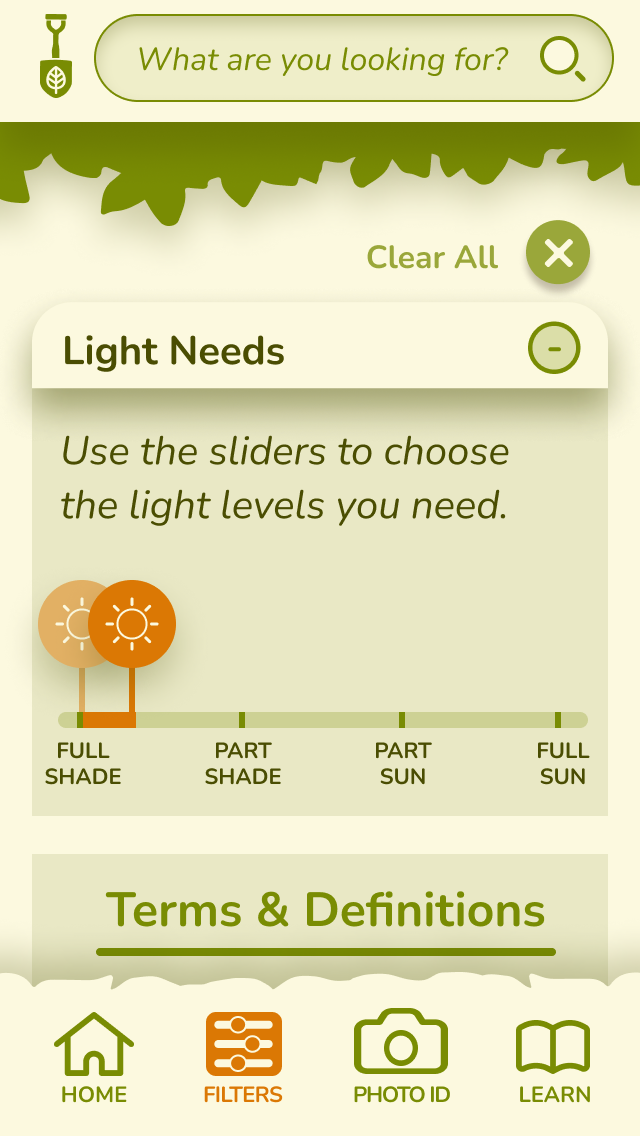 Action vs. Information
KEY FINDING #3:
Users struggled with the sliders in the advanced search for light and water at first.
Recommendations: Separating the informational icons and text from the sliders seemed like a quick and obvious solution.
Testing Results: Creating the visual break for round three of testing, I saw zero testers mistake the education content for action content, and no hesitation when touching the intended screen areas.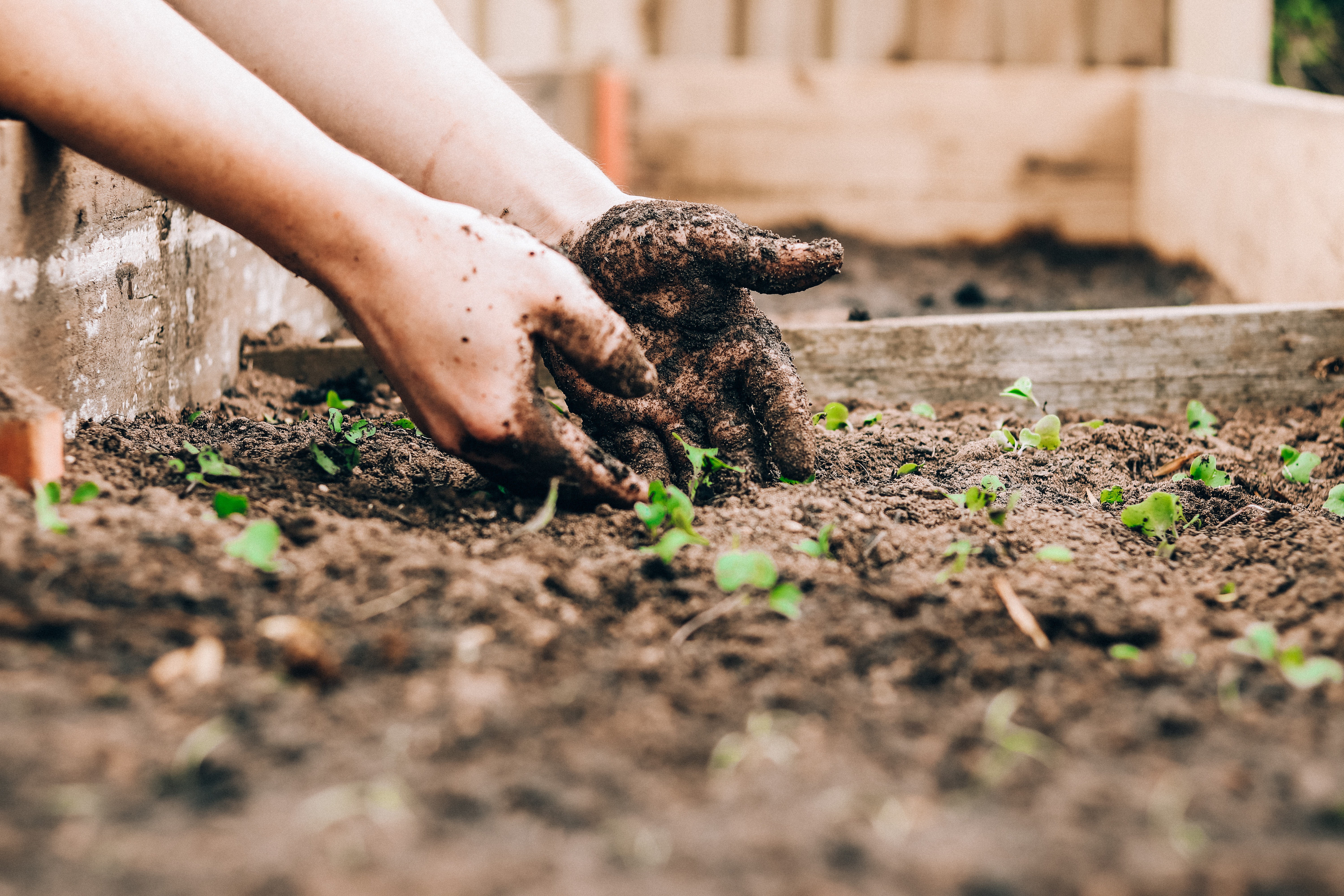 What's next?
OUTCOMES & LEARNINGS
Through user research, I found that gardeners really wanted help finding or verifying information about native plants while away from home. Through iteration and testing, I found the solutions that would reduce cognitive load, focus on accessibility, and make ease of use a priority.
NEXT STEPS
The next steps will be finding software development teams to start helping us build this out. Future goals would be incorporating larger data sets to serve wider regionality in the US, and maybe... beyond.
HOW TO IDENTIFY SUCCESS
What I'd pay attention to once this product is built:
download numbers

numbers of users who update the app

number of sessions per active device, and length of use

initiate user research on successful plantings from app recommendations

conversion rates from the Backyard Habitat Program