Gardenstead - Let's Dig In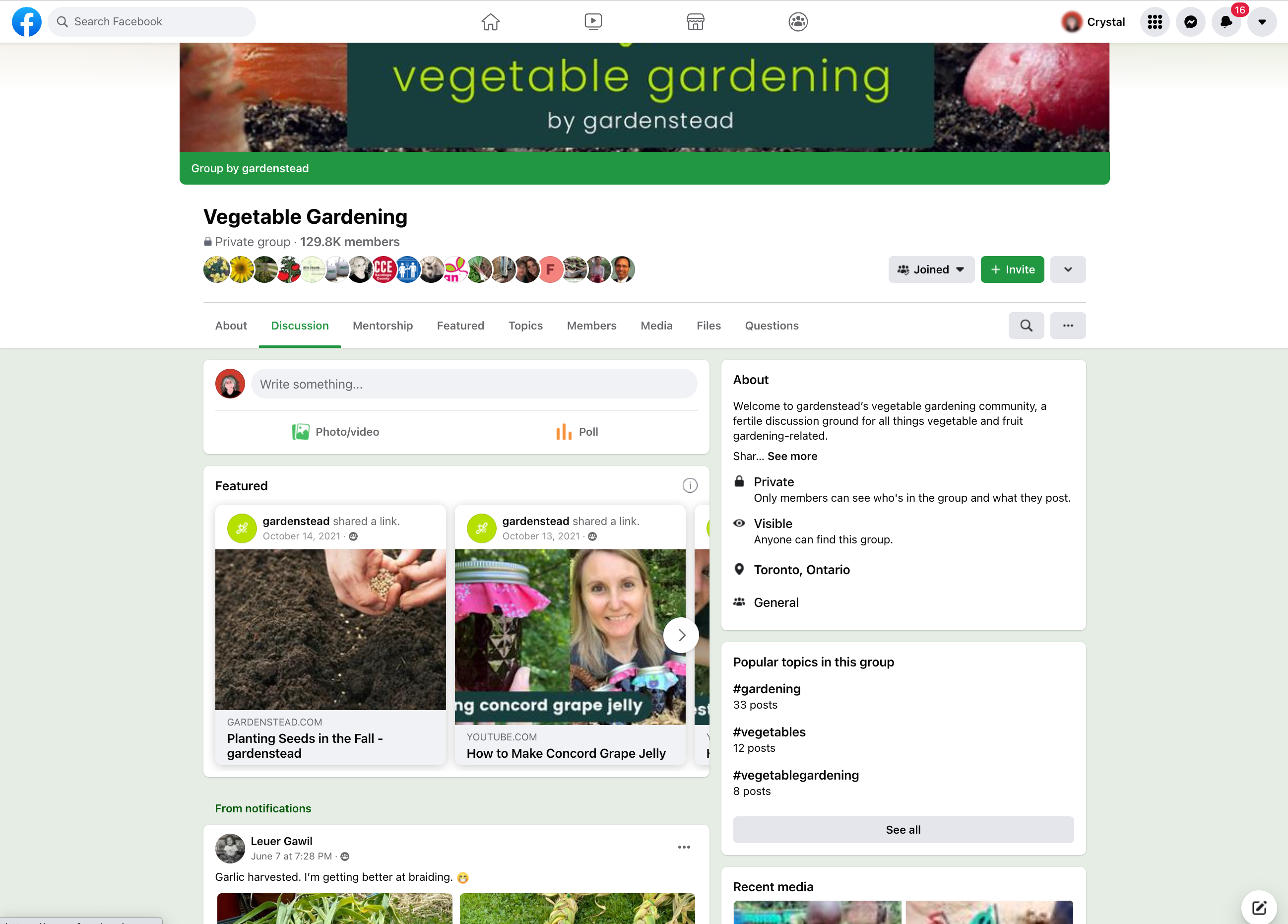 Overview:
Our client had started several gardening Facebook groups immediately before the pandemic. The groups grew quickly and organically during quarantine until they had over 230k users. The client had developed a website, and initiated a newsletter, but wasn't sure where to go from there.
Objective: Gardenstead wanted to expand their services and offerings to the garden community.
Target Audience: Initially our target audience was the Facebook community members, but our research gave us more information about that target group.
My Role: I worked on a four-person team in an industry placement with Springboard, that lasted five weeks. Getting to know each other, and learning about individual strengths and weaknesses were essential to our process of building success.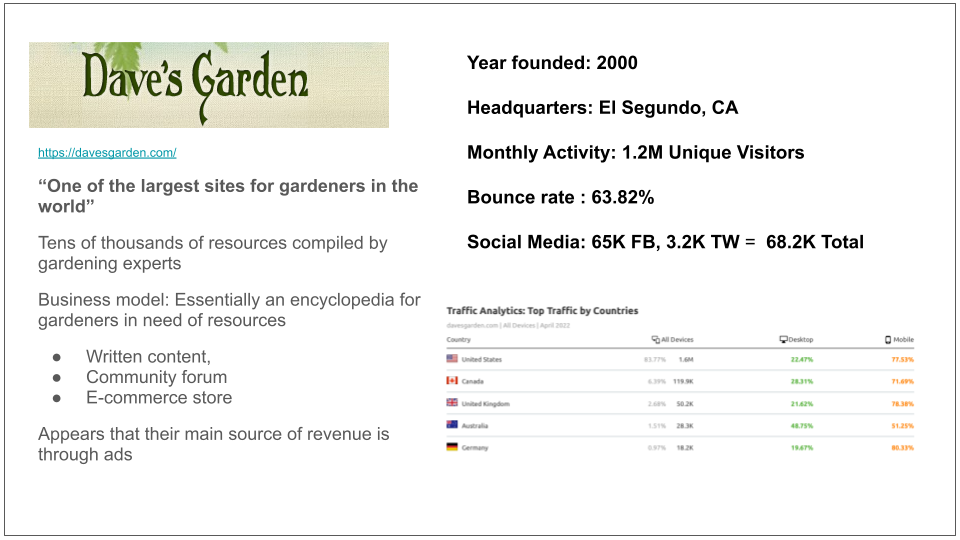 Competitive and Heuristic Analysis
To get a better understanding of the problem space, we looked into direct competitors who were focused on gardening from very different aspects.
We also looked at indirect competitors working with one of the client's ideas for growth: subscription video content.
What we found in our research, is that there isn't really anyone that is doing exactly what Gardenstead is doing.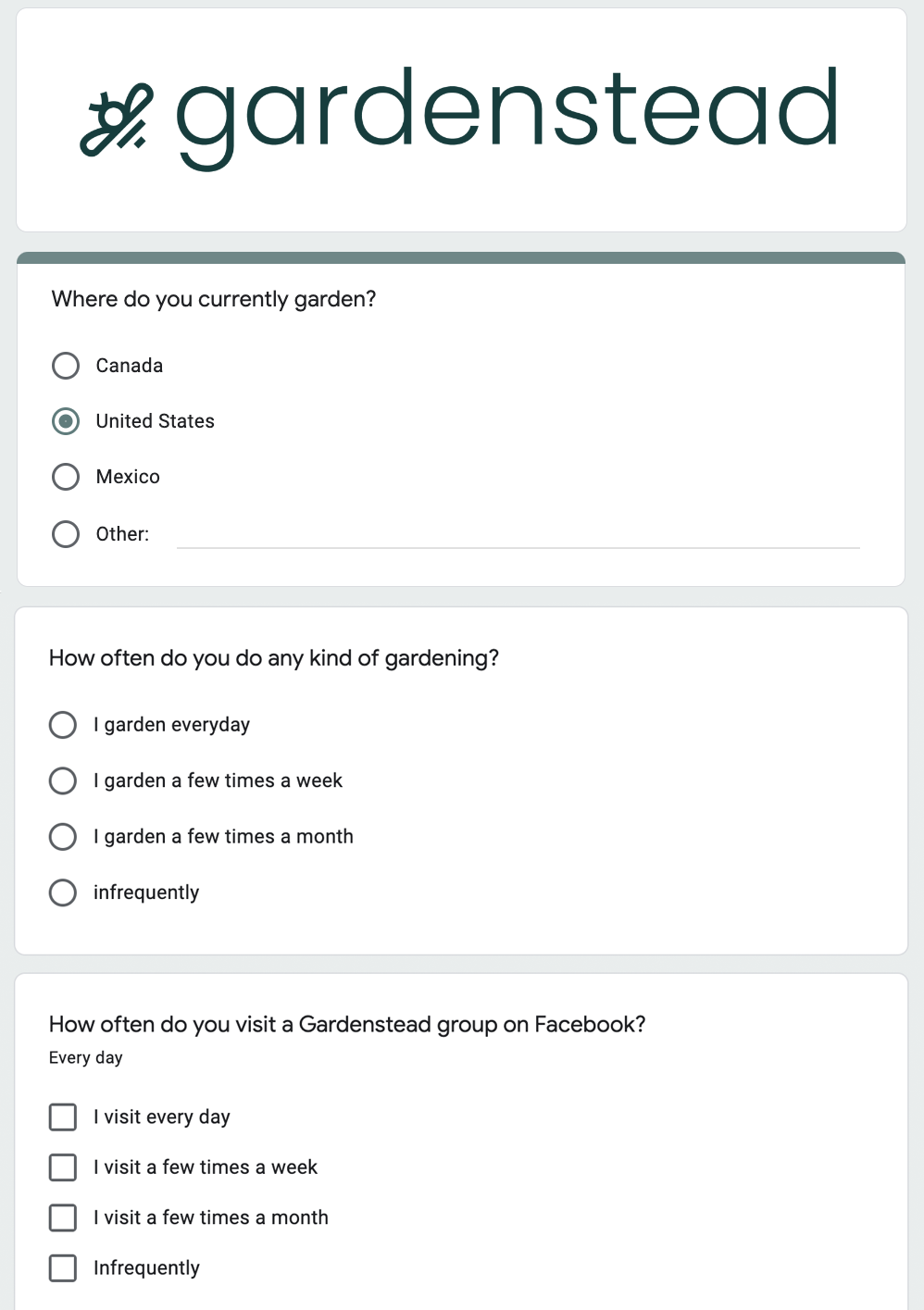 Facebook Group Screener
We worked as a team to develop the most efficient set of questions possible. The client posted the survey to all six groups under the Gardenstead name.
After 24 hours, we did not have enough users participating.
I researched and found there hadn't been much interaction between the branded posts and the users from the groups. I volunteered to talk to our client about some options:
Change the wording. Make it feel less corporate and more personal.

Post as an individual person, not an anonymous organization.

Pin the survey to the top of the feed once posted.
These changes increased our response rate from 3 to 37 respondents.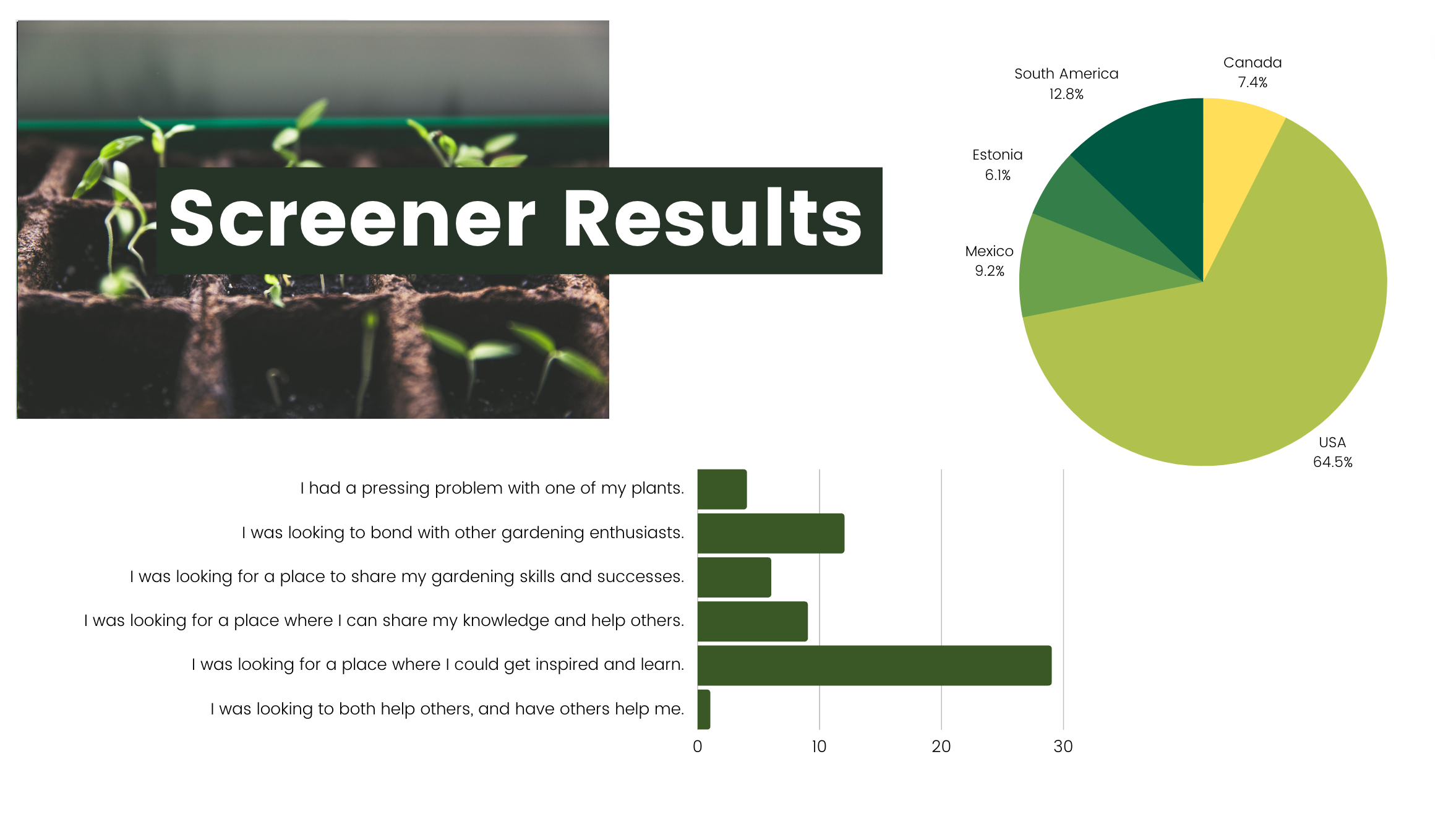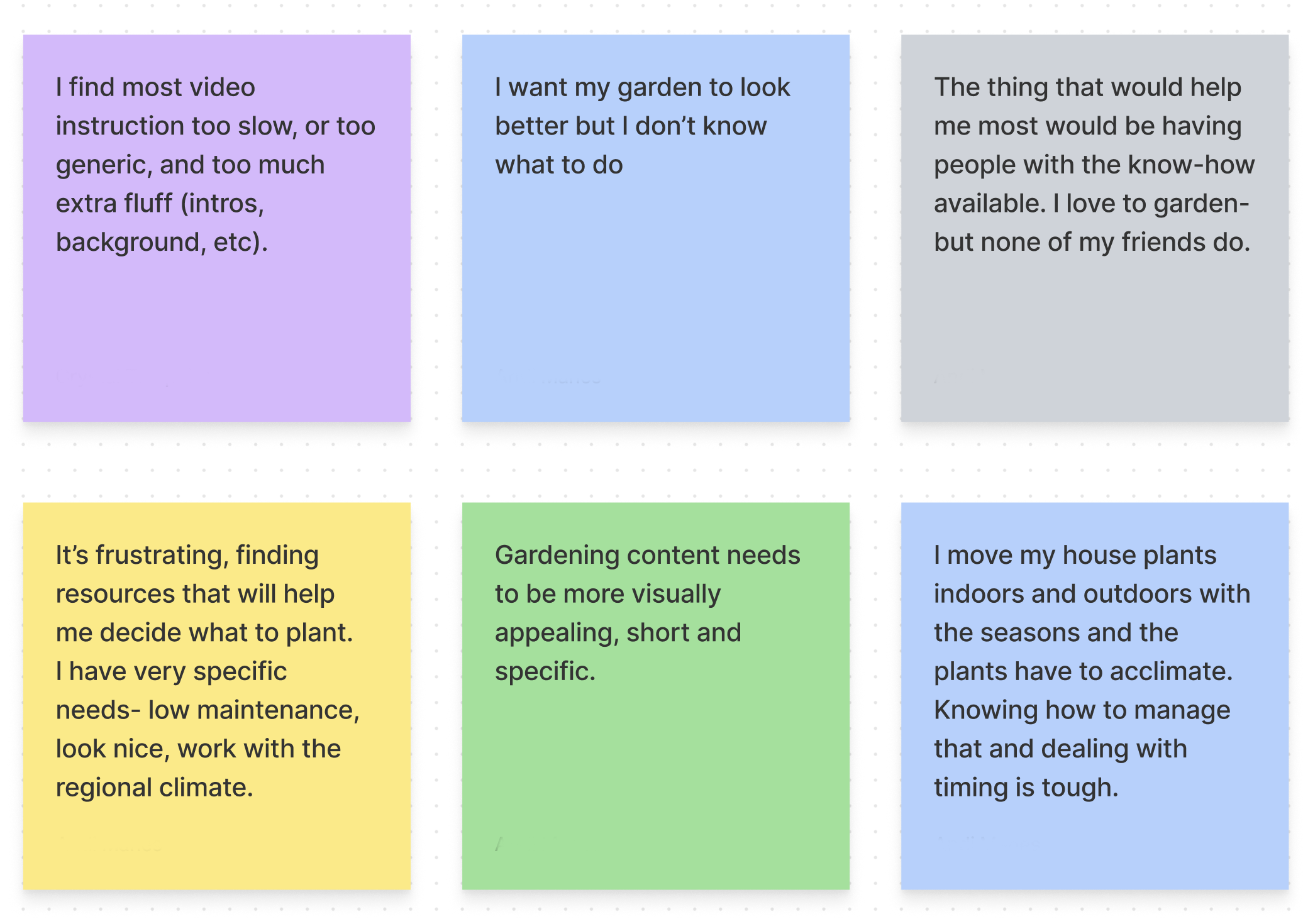 Interviews
We selected two of the brand ambassadors from the Facebook groups to interview, and four other gardeners. We wanted to see the difference in answers between the brand ambassadors (who were acting as hosts on the forums) and the general gardening public.
We wanted to know:
how and why users joined the Facebook Gardenstead groups, and how they felt about it.

if users knew about and/or visited the website

if users had signed up for the newsletter.

about users' gardening needs.

about users' gardening pain points.

about users' gardening spending habits.

about users' attitudes and habits regarding any kind of subscription services.
Understanding Our Data
After the interviews wrapped up, we met remotely to create an affinity map using a FigJam board. We used the data from interviews to group ideas, uncover shared themes, and effectively draw conclusions about who our users are.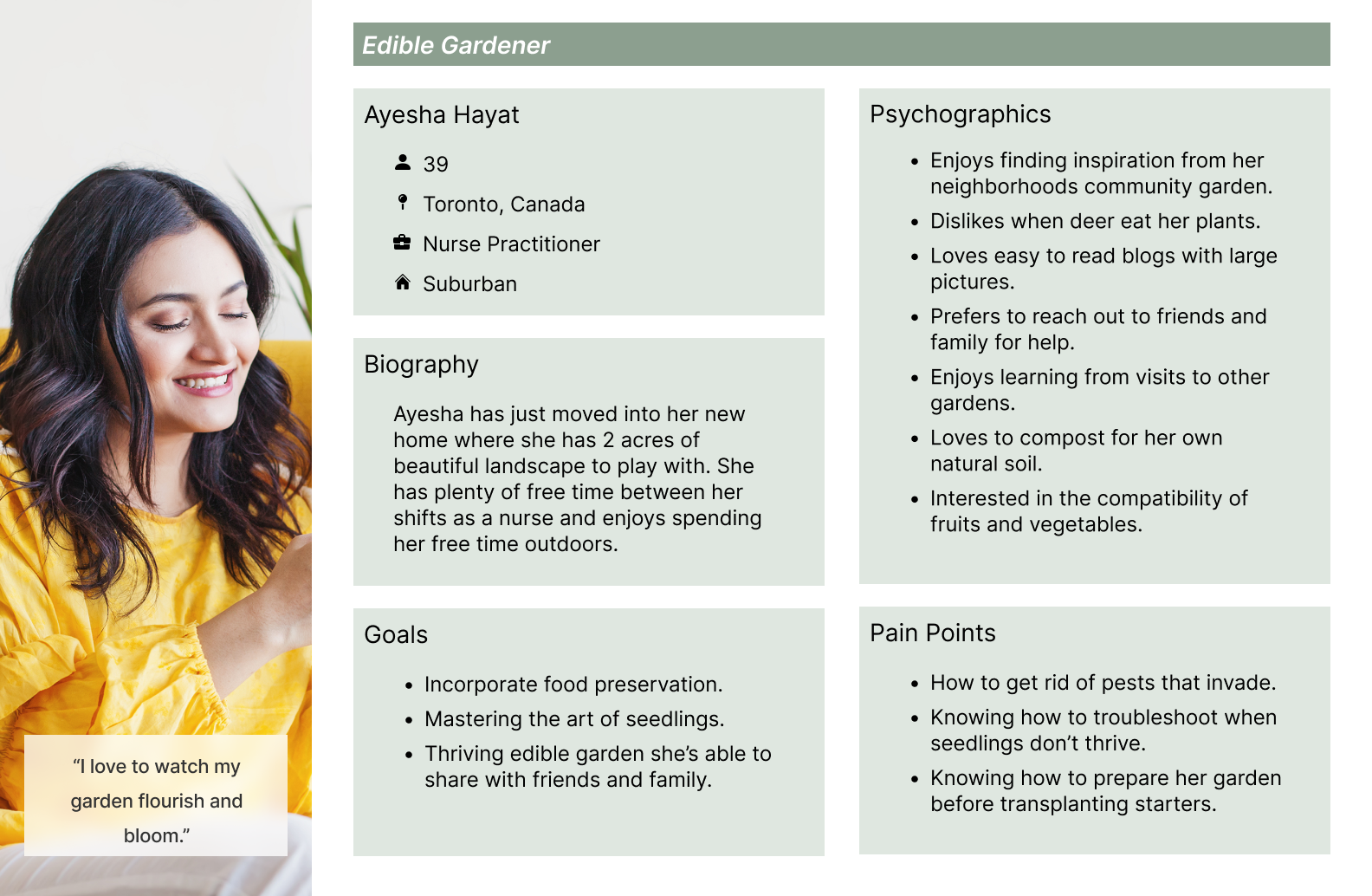 The Edible Gardener
The Edible Gardener is focused on production, sustainability, experimentation, and troubleshooting. They may incorporate some aesthetic choices, and/or indoor plants in their concerns, but the focus is edibles. Spending is very seasonal.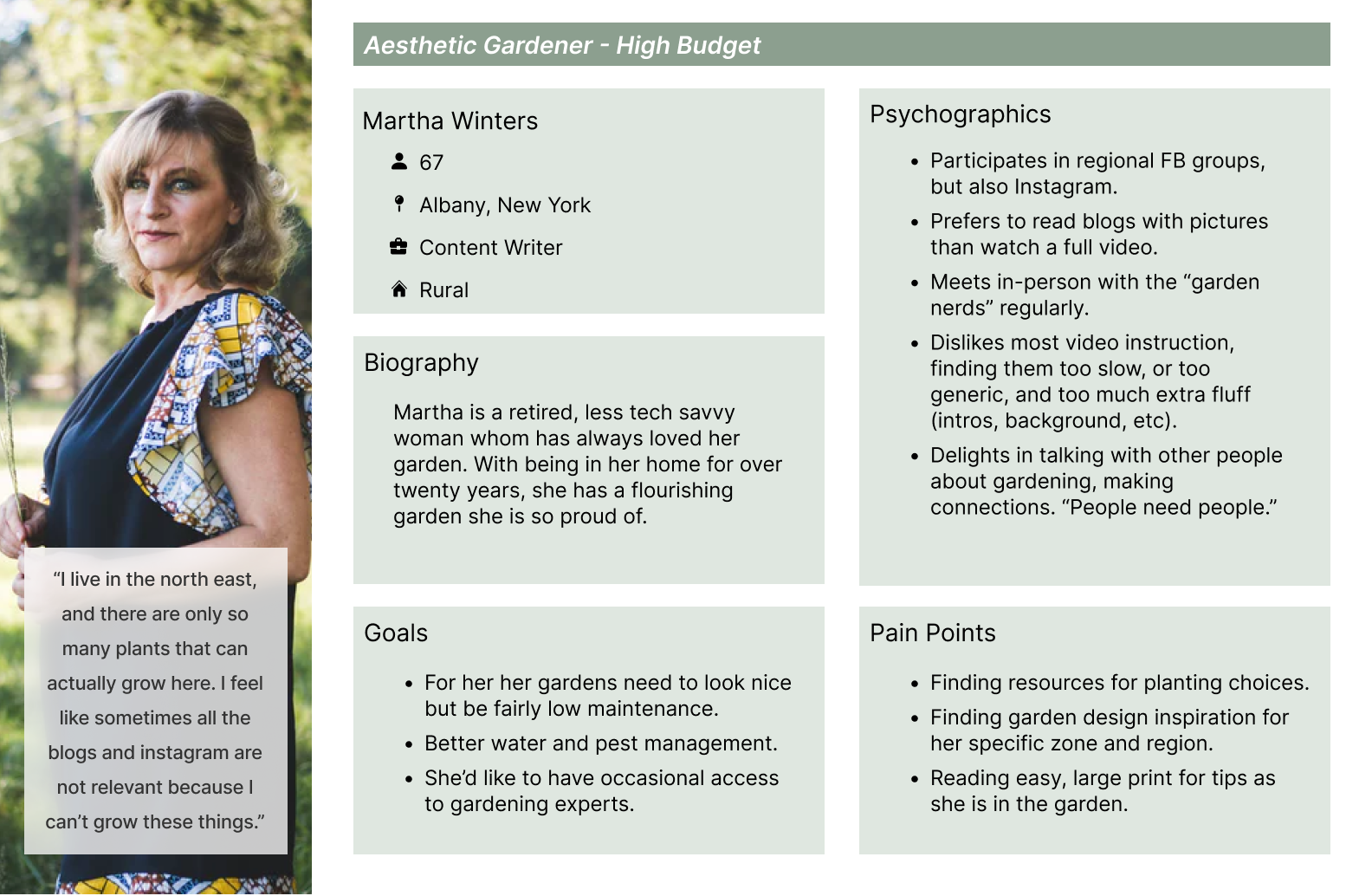 The Aesthetic Gardener: Big Budget
The Big Budget Aesthetic Gardener spends freely, incorporating large purchases of plants, tools, supplies, and other items as needed. They have lots of space to work with. Most of their spending is seasonal, running over $500 per month at the high end.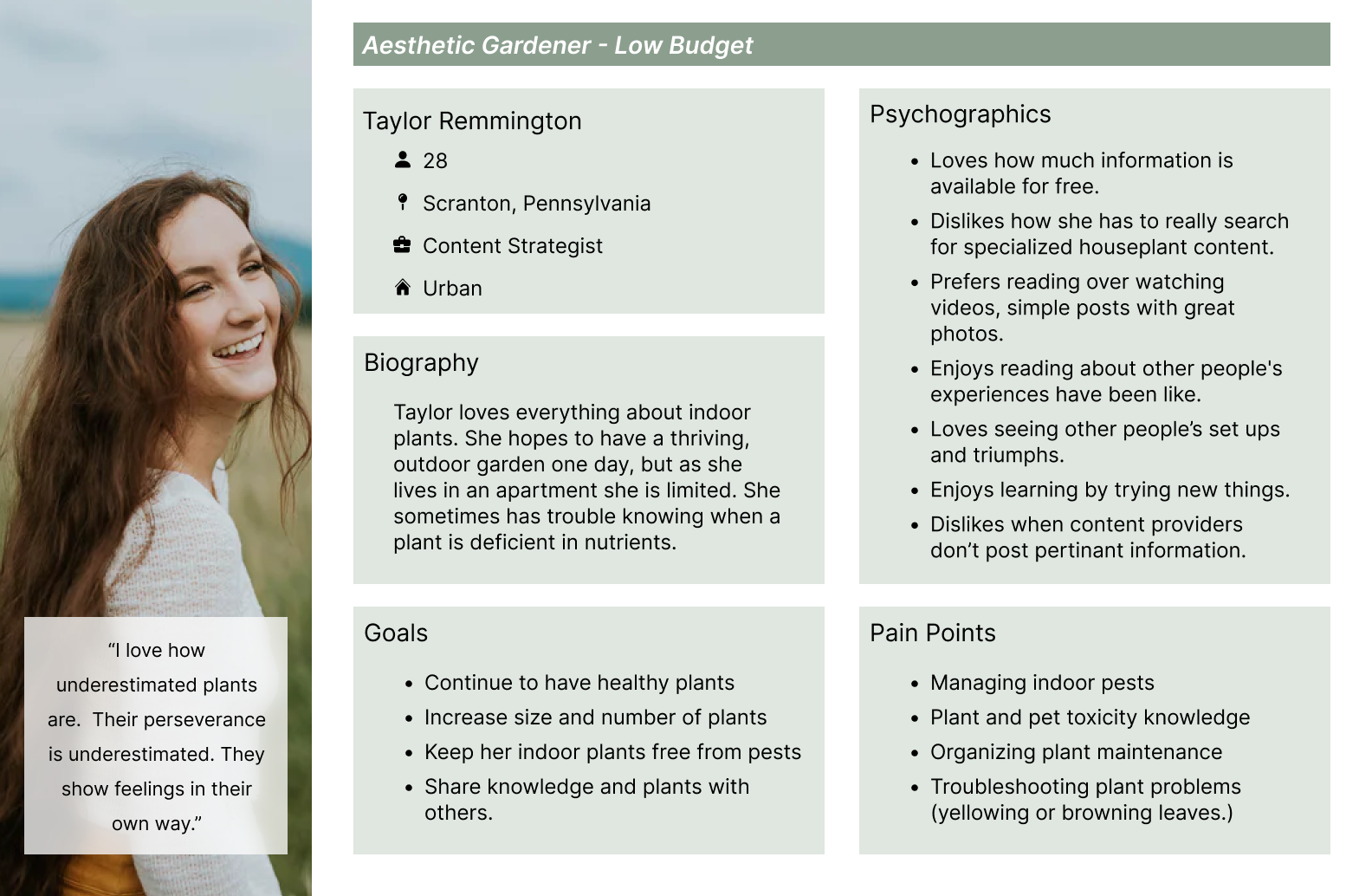 The Aesthetic Gardener: Low Budget
The Low Budget Aesthetic Gardener is interested in budget-friendly ways to increase their plants' size and numbers. They may be focused on indoor plants only at this point, or have a small outdoor space. Spending is very limited and non-seasonal for indoor gardeners.
Insights & Moving Forward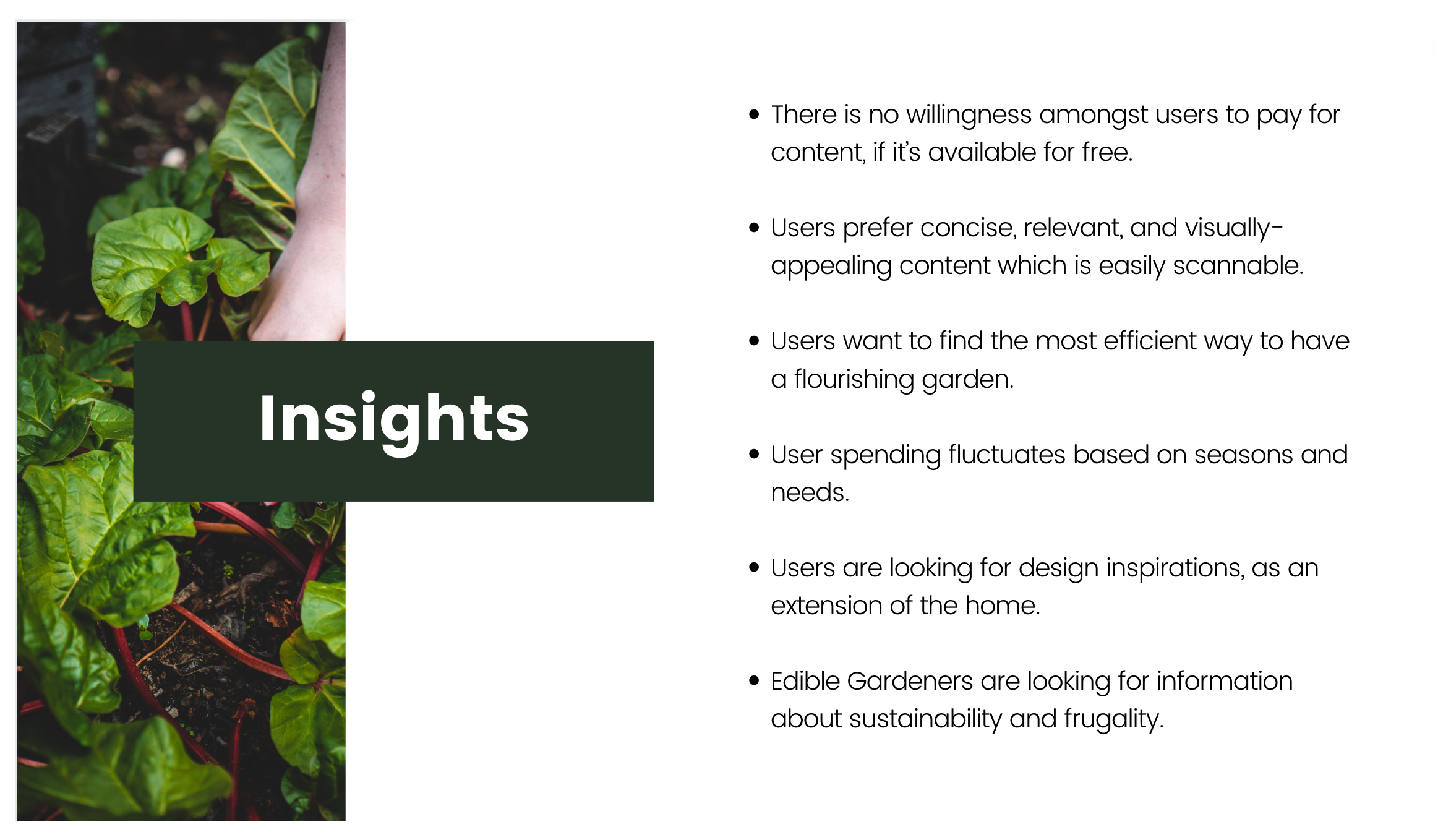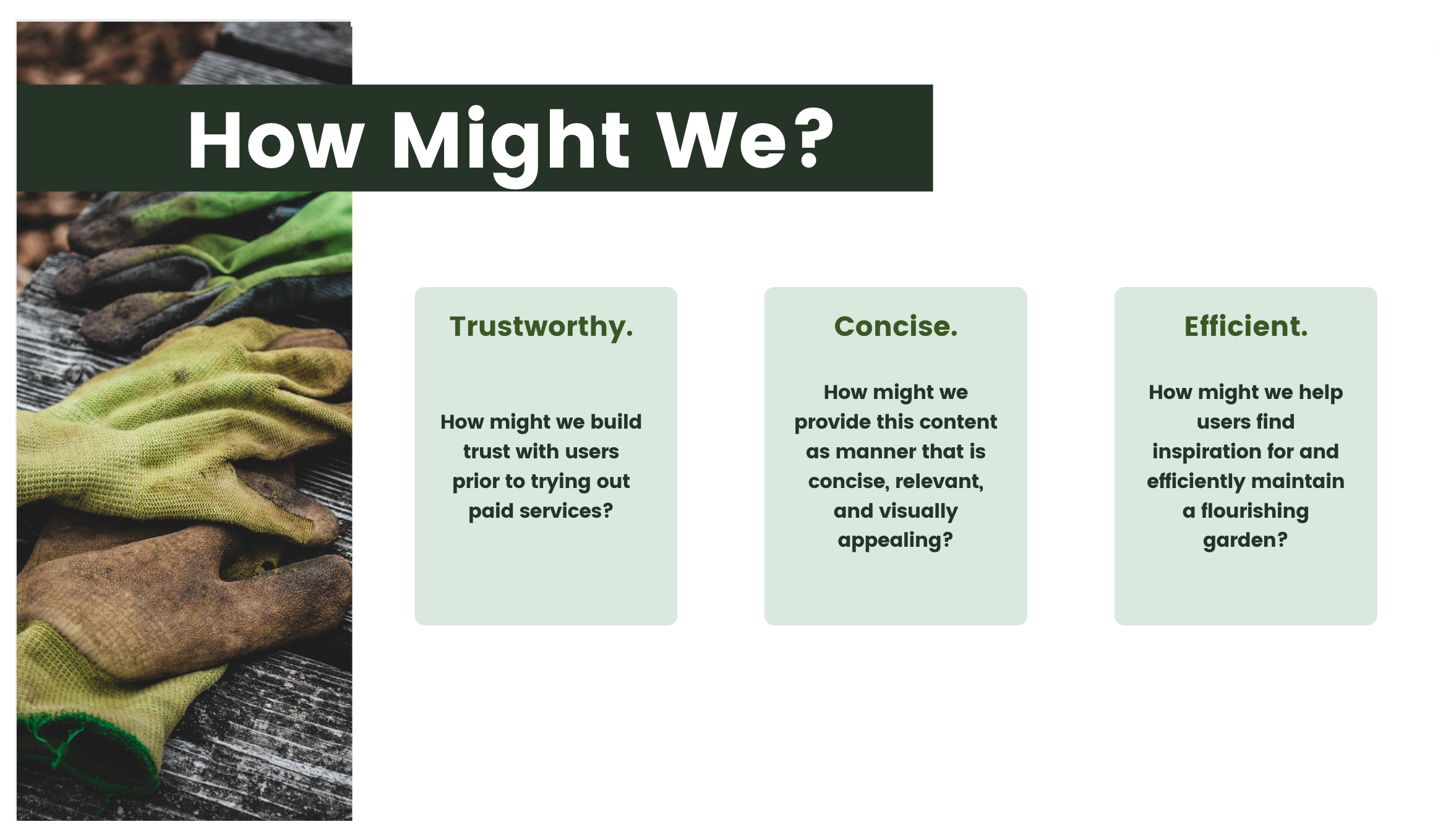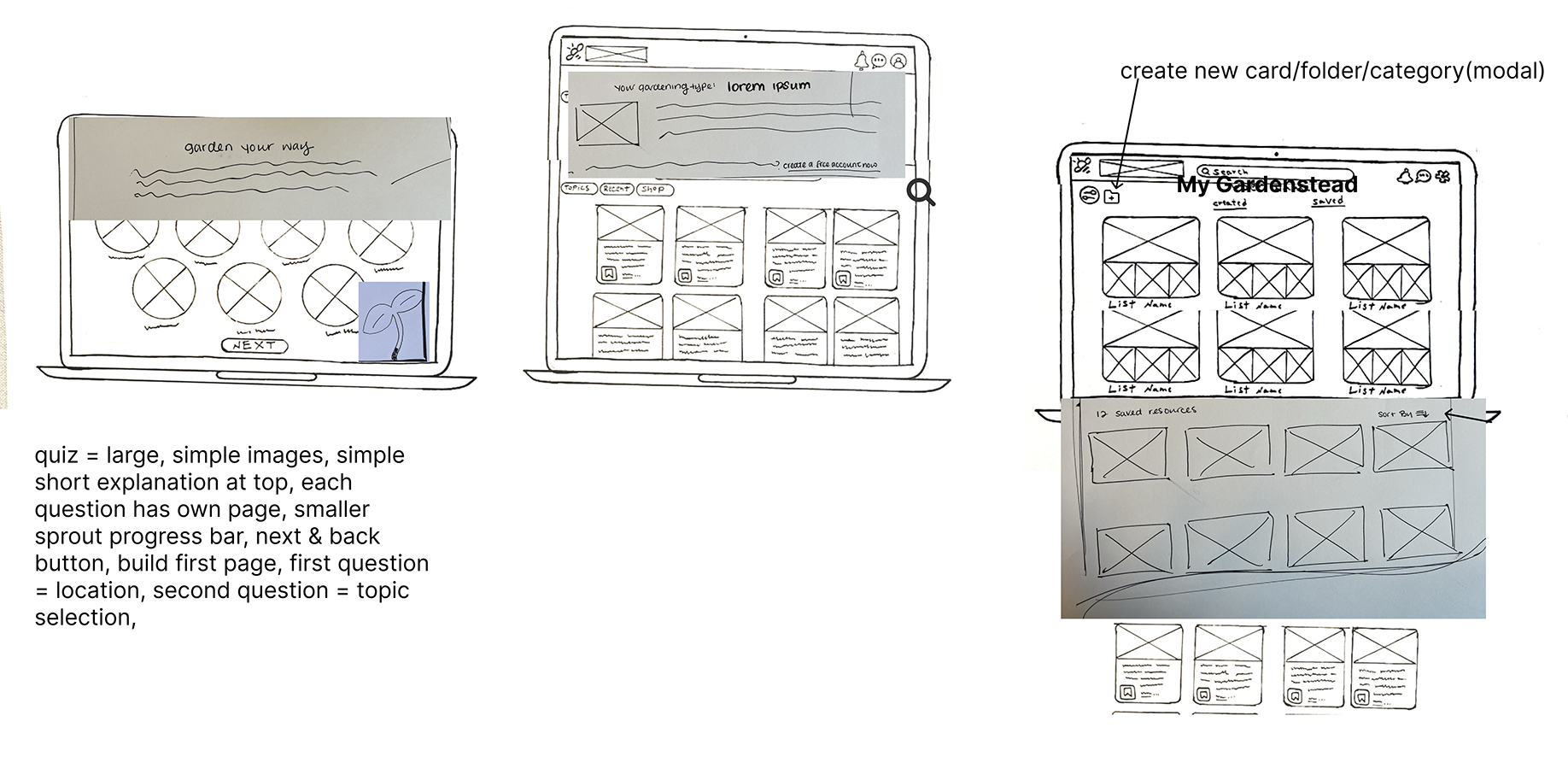 What can we accomplish?
We are trying to find more services for Gardenstead to offer.
After ideation, discussions, and evaluation of concepts, we came to a consensus on a feasible idea.
We each developed sketches and came back together to evaluate. We combined ideas in a collage-type manner until we were at a point we could move forward.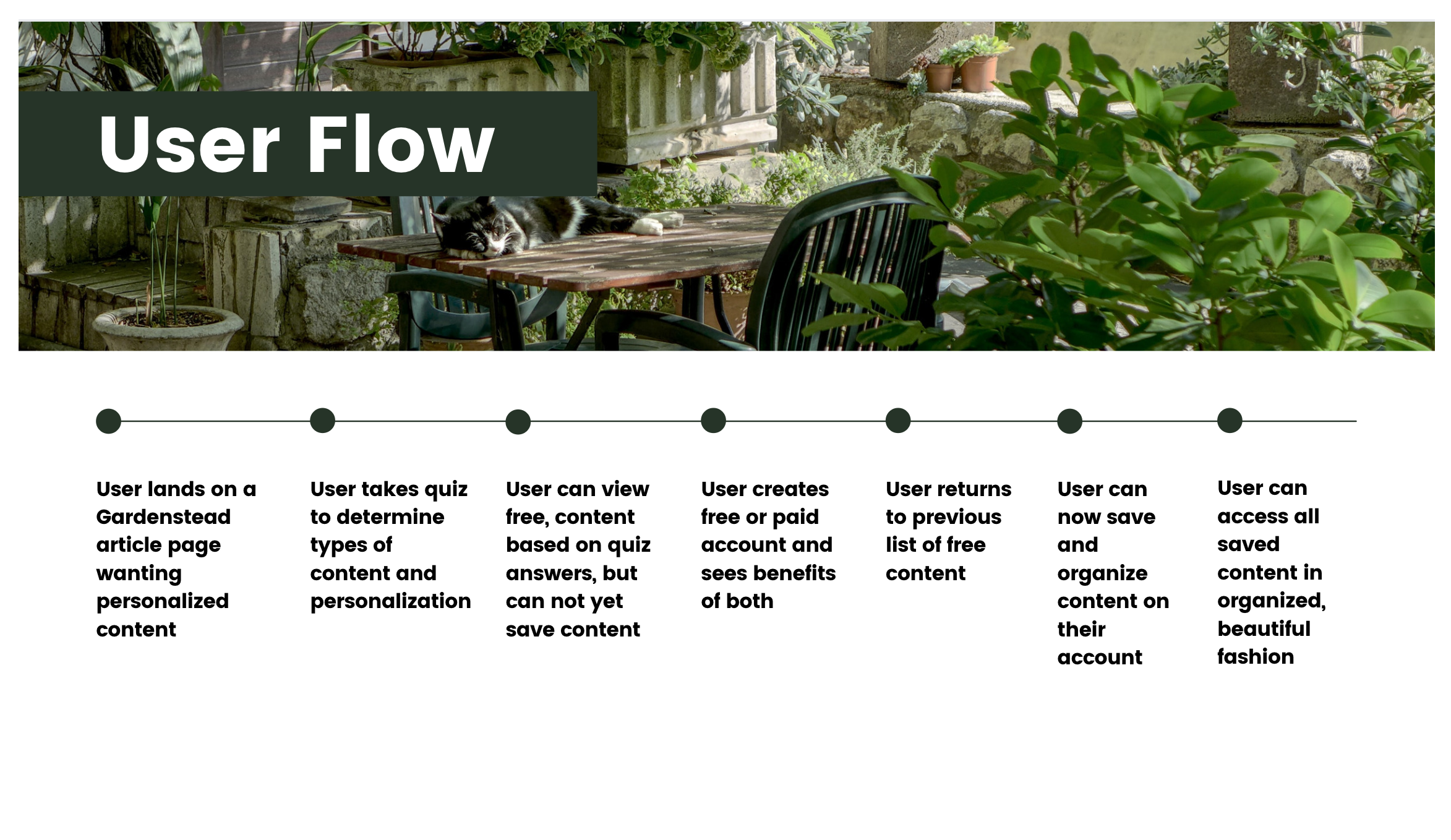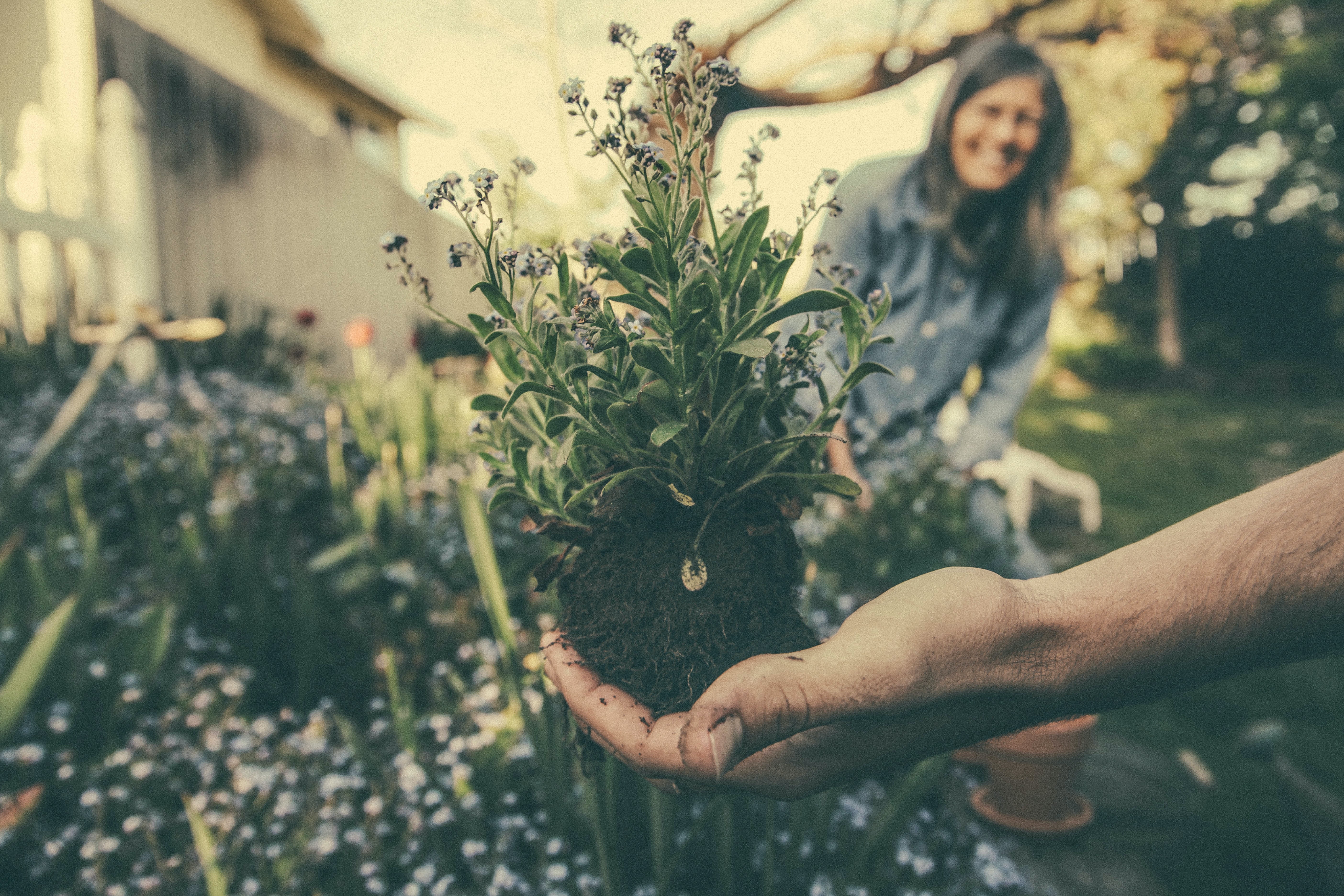 The why:
For our client this creates more offerings:
This MVP flow creates a service Gardenstead can offer to their community, using existing content. It's also flexible enough to hold space for future offerings.
For our users this hits all our HMW goals developed from our interviews:
It creates relevancy for the user, allowing them to personalize content.

It builds on the brand, strengthening brand trust.

It allows users to create categories and shortcuts to the information they need most, efficiently managing content so they can get back out into the garden.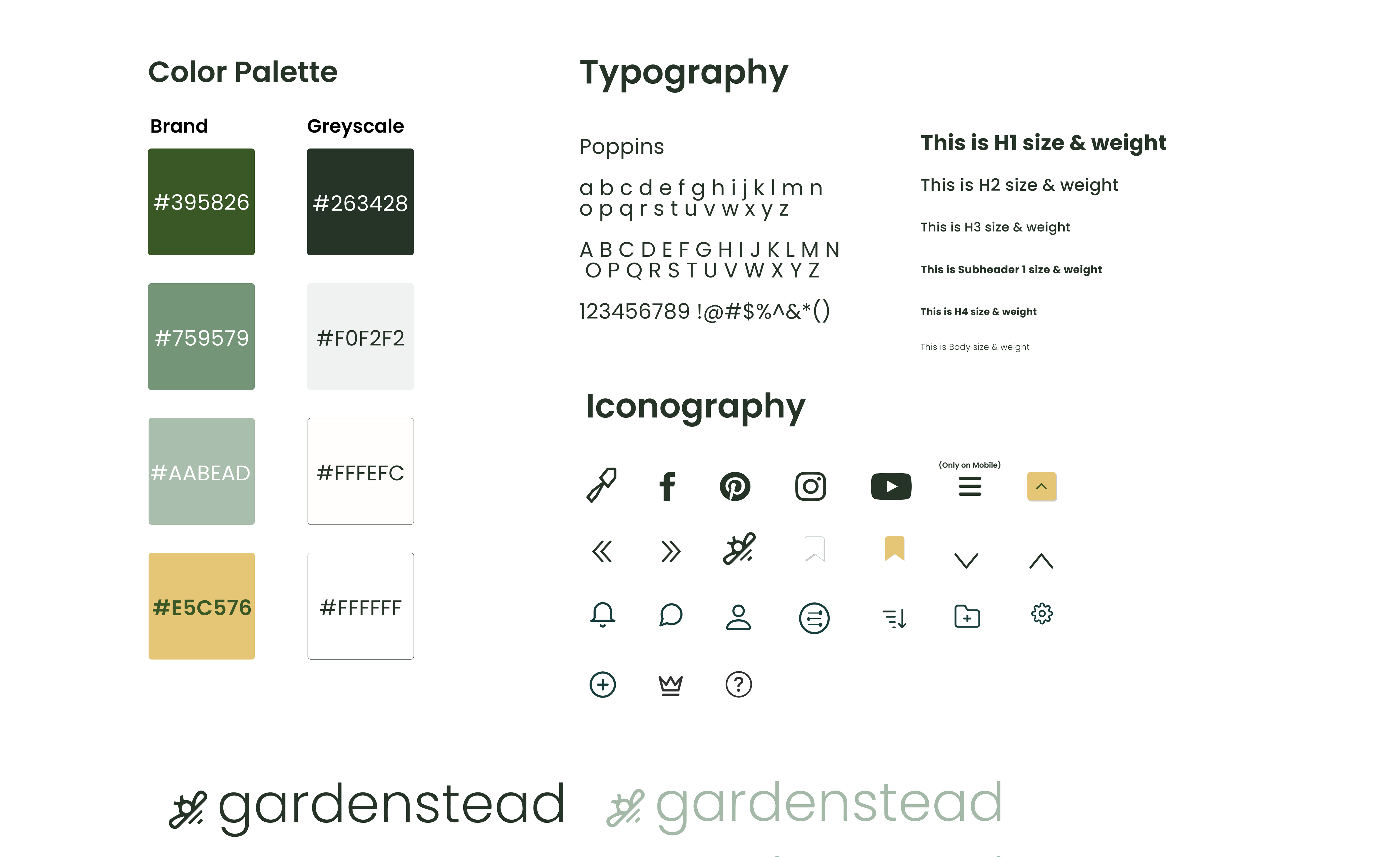 Divide and Conquer
With our limited time, we decided to divide the team in two groups. Two of us would work on a style guide. Two of us would develop mid-fidelity wireframes. We would come back as a large group to evaluate the choices, make iterations, and decide how to put it all together.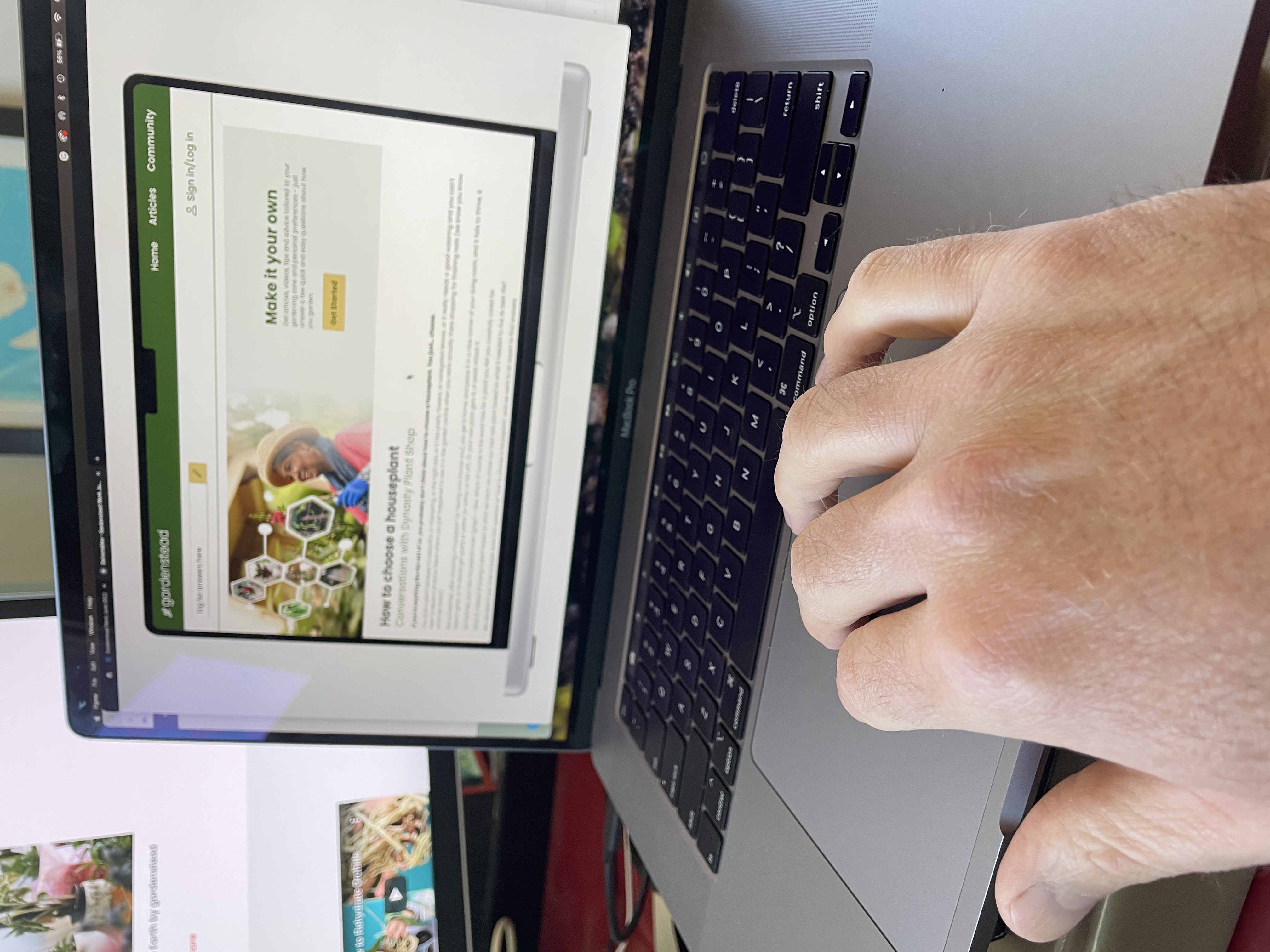 Usability Testing Goals
With our hi-fidelity prototype created, we needed to test with actual people. We conducted five usability tests with individual participants.
Our two primary tasks that participants were asked to complete were:
Create a Gardenstead account.

Save something to your account that interests you.
User Testing Results
Issues that became visible during testing:
the sizes of a few icons and buttons were too small,

the calls-to-action aimed at encouraging users to take the quiz competed with the calls-to-action for creating an account,

clearly communicating why they should sign up for an account was unclear,
We immediately implemented changes to our designs based on this incredibly helpful feedback.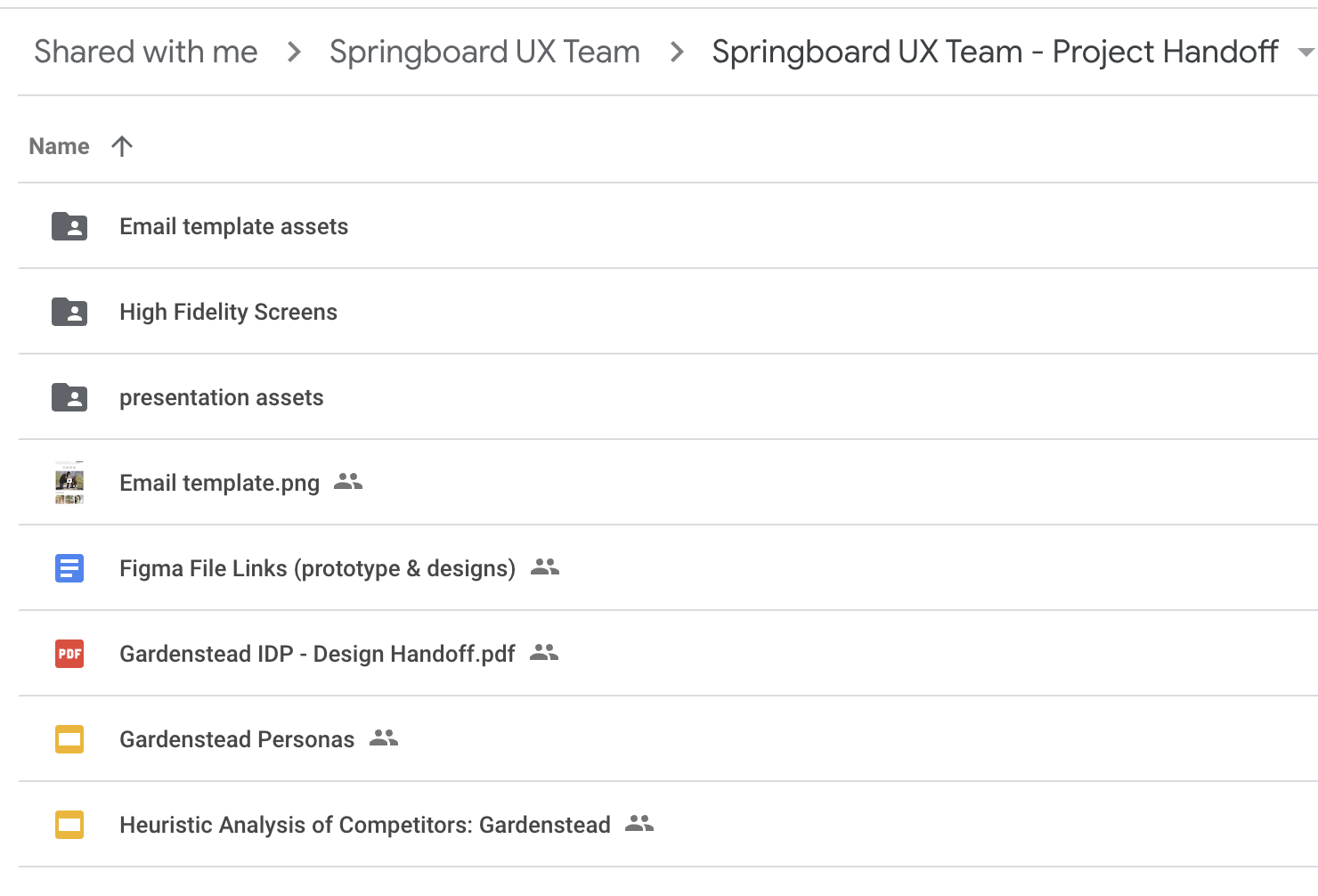 The Deliverables
Our client requested a few things specifically: competitive analysis, a new email template for their newsletter, and personas.
We were able to provide those items, plus a heuristic analysis of the competitors, and a design sprint focused on their website. We also ideated additional service offerings from Gardenstead for their user base.
The Learnings
The newsletter format was implemented right away. While my team may have had a short-term contract, I would look at the following as measures of success in the near future:
open and click rates

bounce and delivery rates

conversion rates from the Facebook groups and social media accounts

future user interviews on usefulness of current offerings
We helped our client understand that masterclass-style instructional videos were not what their user base wanted or needed, and offered another possible offering.